#EITCrisisResponse - COVID-19 Rapid Response Call launched by EIT Food for Innovation projects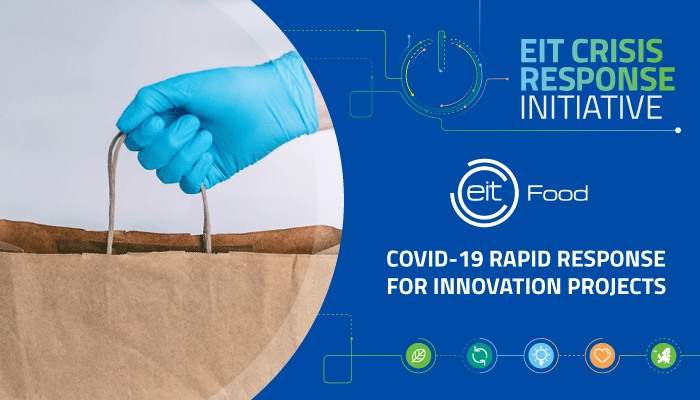 Open to partners and non-partners of EIT Food.
At EIT Food, we believe that we are all responsible for, and connected to, the food that we eat so we all need to work together to improve it. Our role is to bring all players together, and guide and accelerate the innovation process that will transform the food system. The COVID-19 crisis has placed unprecedented pressure on the global food system, calling for innovative thinking and ways of partnering to face the immediate challenges of the pandemic as well as the future recovery.
As part of the EIT's
Crisis Response Initiative
, this activity directly contributes to the European Union's response to the COVID-19 pandemic
EIT Food ecosystem
EIT Food is an initiative made up of a consortium of key industry players (multinationals, nationals and SMEs), agrifood start-ups, research centres and universities from across Europe.
We also work with organisations not yet part of the EIT Food consortium. Non-partners can participate in the Covid-19 Rapid Response Call by collaborating with a current EIT Food Partner (see our partners list) who will lead the project or join an engaged potential COVID-19 proposal consortium. Information on how to participate in this call as a non-Partner is in the Call guidelines.  
Rapid Response Call
The EIT Food COVID-19 Rapid Response Call focuses on innovation projects which deliver:
Rapid impact: this initiative will fund activities executed until 31 December 2020. As such, the innovative solution (product, service, start-up created) must be ready for launch by the end of 2020, and be on the market by end Q2 2021 at the latest.
Significant impact: applicants must demonstrate how the initiative will deliver both economic and societal impact, specifically addressing the COVID-19 crisis or possible future similar pandemics.
Completed applications should be submitted via email to 2020activities@eitfood.eu by midnight, 28 May 2020. The title of the email subject should begin "Proposal submission: COVID-19 Rapid Response Call".
For full Call details and requirements, including the application form, please download the Call Guidelines.
EIT Food COVID-19 Rapid Response Call Guidelines
Webinar
EIT Food will host a webinar about this Call on Wednesday, 13 May 2020, from 14:00 – 15:00 CET. 
The webinar will be recorded and published on the EIT Food website on Thursday, 14 May. If you still have questions after watching the webinar recording, please email us