Free trainings for Ukrainians: Join the EIT's Founder2Founders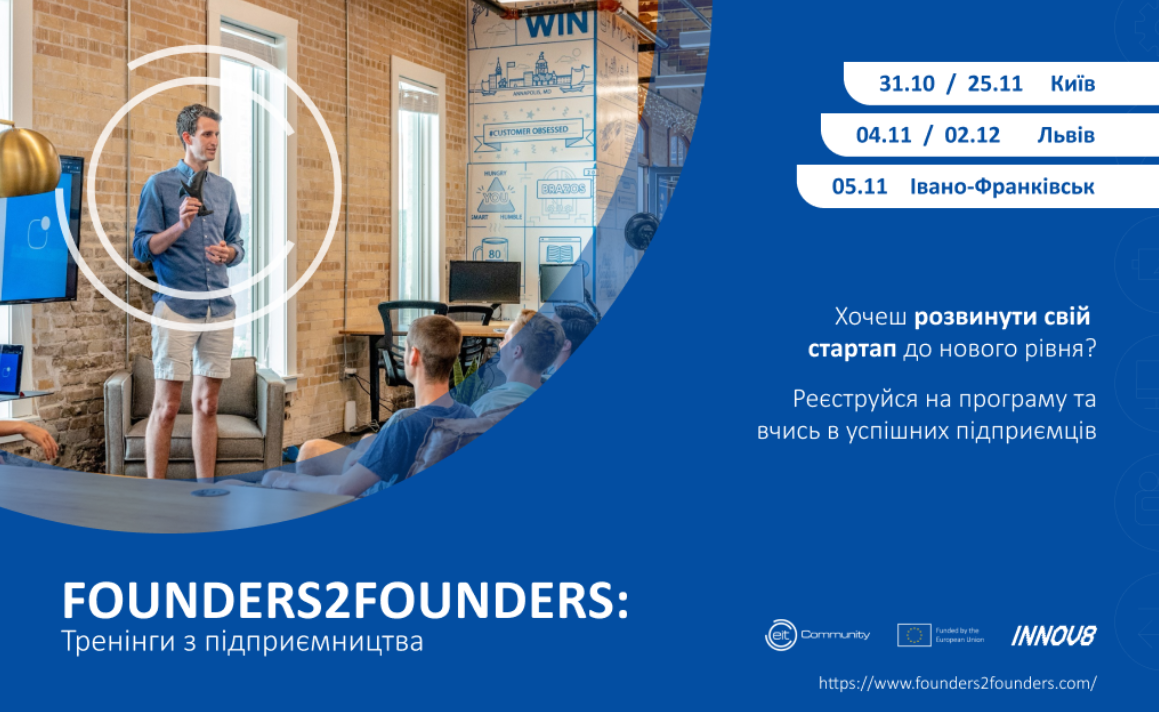 Founders2Founders is a series of five one-day offline workshops in Kyiv on 31 October and 24 November, Lviv on 4 November and 2 December, and Ivano-Frankivsk on 5 November. You will get practical advice for your tech business from successful founders, entrepreneurs, and investors.
Over the course of the programme, you will receive best practices on:
product development

building a business model

attracting investment

developing a market entry strategy

improving pitching skills
The Founders2Founders programme is run by the EIT Community Strategic Regional Innovations Cluster together with the Center for Innovation and Entrepreneurship /nnov8. The EIT Community Strategic Regional Innovations Cluster is the largest and most dynamic community of innovators in Europe.
The EIT Community has supported Ukraine for the last few years, mainly in ecosystem development. Currently, we offer top-tier entrepreneurial support to bring Ukrainian talents closer to the European innovation ecosystem and equip them with a specific skill set that will aid in the future reconstruction of the country. With a strong track record of successful ventures and built-in programmes such as EIT Jumpstarter, the EIT Community continues working with Ukrainian talents interested in changing the world via deep technologies.

Piotr Pawelec, RIS and EIT Community Manager, EIT InnoEnergy KIC
Which Ukrainian start-ups are encouraged to apply?
We would like to invite Ukrainian technology start-ups that have already reached level 3 of technological readiness and have a proof-of-concept. The trainings will be held offline exclusively on the selected dates from 10.00 to 17.00 EEST. We encourage applications from start-ups in areas such as health and biotech, energy and green, climate, agri-food, digital and AI, manufacturing, and new materials.
We are happy to continue cooperation with the European Institute of Innovation and Technology and launch a joint training programme for start-ups. The programme is unique for Ukraine because our lecturers are entrepreneurs are founders of technology businesses and investors who built and sold their own start-ups, invest in start-ups, and know exactly what is needed for the development and success of innovative start-ups. 

Sviatoslav Svyatnenko, CEO and co-founder of the Center for Innovation and Entrepreneurship /nnov8, expert in entrepreneurship and investment attraction
The training schedule and access to the training platform will be sent to confirmed participants by email.