Participatory Methodologies for Policymaking Processes - RIS Transition Policy Lab Workshop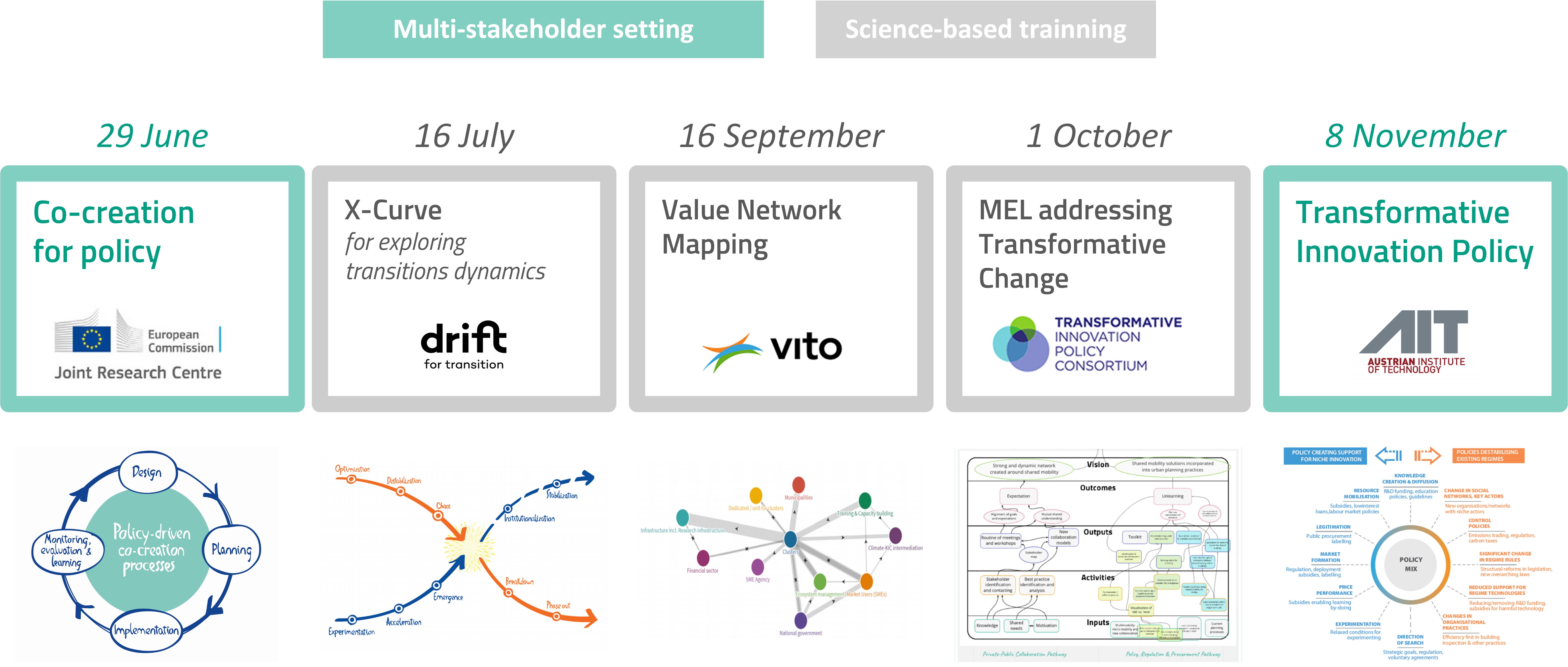 'Participatory Methodologies for Policymaking Processes' workshop within the EIT Regional Innovation Scheme Transition Policy Lab. 
The European Green Deal is the EU's strategy to move towards climate neutrality and circular economy by the transformative policy. This transformation requires the alignment of multiple stakeholders and instruments with existing regional innovation plans such as the Cohesion Policy.​ Policy mixes emerge to reinforce synergies and complementarities between EU, national and regional innovation initiatives.​  
The Transition Policy Lab addresses the goal of shifting practices for policymaking by removing barriers for enabling the necessary institutional change. It is aimed to build capacity to co-design and implement systemic strategies that can lead to potentially transformative policies and actions. ​ 
It will consist of five interrelated capacity-building activities implemented through three different formats: multi-stakeholders setting, science-based training and executive programmes. 
The First Session: Co-Creation for Policy
This first session will introduce the policy co-creation process to structure multi-stakeholders policymaking processes. It will provide practical examples to learn about Policy co-creation methods for mission-oriented policies. 
The material shared is part of a forthcoming (Fall, 2021) handbook by the Joint Research Centre (JRC) –the European Commission's science and knowledge service—and  EIT Climate-KIC, developed from evidence in running policy co-creation workshops across Europe and in particular in Southern and Central Eastern Europe. 
Speakers 
Gabriel Rissola, Senior Researcher at European Joint Research Centre (JRC) 
Laurent Bontoux, Senior Foresight for Policy Expert at European Joint Research Centre (JRC) 
Cristian Matti, Head of Strategic Research at EIT Climate-KIC  
Moderated by: Annalisa Spalazzi, Regional Innovation Scheme Programme Manager, EIT Climate-KIC
Main benefits of attending  
Have a preview of the upcoming "co-creation for policy" handbook by JRC and EIT Climate-KIC. 
Learn about Policy co-creation processes.
Hear about practical cases of implementation. 
Target participants 
EIT Regional Innovation Scheme (RIS) Hubs, partners, organizations and stakeholders from Southern and Central Eastern Europe
Practitioners interested in applying the methodology for mission-oriented workshops
Policymakers and programme owners at the EU, national, regional, and local level  
 For questions about the event, please contact annalisa.spalazzi@climate-kic.org