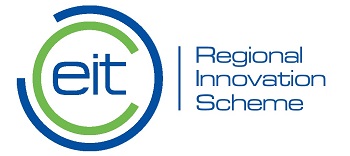 The EIT Regional Innovation Scheme (EIT RIS) is the EIT Community's outreach scheme. The scheme enables the transfer of good practices and know-how from the EIT's unique approach to boosting innovation. The EIT Regional Innovation Scheme was introduced in 2014 to share good practices and experience emerging from EIT Community activities and to widen participation in our activities across Europe.
The EIT enhances Europe's ability to innovate through 'Knowledge Triangle Integration', strengthening cooperation between partners in business, higher education, and research working together in the EIT's Innovation Communities. The EIT RIS opens up the activities of our Innovation Communities to innovators that are not partners, by providing targeted support to individuals and organisations to take part in and benefit from our Innovation Communities' activities, services and programmes.
The objective of the EIT RIS is to contribute to boosting the ability to innovate of countries and regions in Europe that belong to the groups of so-called 'modest and moderate' innovators (according to the European Innovation Scoreboard).
Countries eligible to take part in the EIT RIS are:
EU Member States: Bulgaria, Croatia, Cyprus, Czech Republic, Estonia, Greece, Hungary, Italy, Latvia, Lithuania, Malta, Poland, Portugal, Slovakia, Slovenia, Spain, Romania
H2020 Associated Countries in Europe: Albania, Armenia, Bosnia and Herzegovina, Faroe Islands, Republic of North Macedonia, Georgia, Moldova, Montenegro, Serbia, Turkey, Ukraine
Click on an EIT RIS country below for more information. Note that the EIT Hubs in each country are local organisations selected through an open process that cooperate with the Innovation Communities.
How is the EIT RIS implemented?
Each Innovation Community has designed its own EIT RIS Strategy fully aligned with its objectives and activities. Our Innovation Communities' EIT RIS activities work with organisations and individuals, such as students and entrepreneurs from the EIT RIS eligible countries, and provide them access to their services, expertise and programmes, such as business creation and acceleration services as well as education programmes.
EIT RIS activities are implemented via our innovation hubs (Co-location Centres) across Europe. If an Innovation Community has not set up an innovation hub in an EIT RIS eligible country, it will designate EIT Hubs. These EIT Hubs will be local organisations selected through an open process that will cooperate with the Innovation Communities and local organisations from business, education and research.
The EIT RIS Guidance Notes detailing the implementation approach and rules:
EIT Regional Innovation Scheme (EIT RIS) Implementation Guidance Note 2018-2020
EIT Regional Innovation Scheme (EIT RIS) Implementation Guidance Note (valid until end of 2017)
What are the benefits of the EIT RIS?
Countries, regions and local organisations taking part in the EIT RIS benefit from the transfer of knowledge, know-how and cooperation that is achieved with our Innovation Communities. Ultimately, this will boost the local innovation eco-systems and their innovation output, leading to an increase in the country's overall innovation performance.
How is the EIT RIS funded?
Every year, the EIT grants funds to the Innovation Communities for EIT RIS implementation. Each Innovation Community uses these funds in line with its strategy and designs its activities accordingly, such as scholarships, business acceleration services and Knowledge Triangle Integration mentoring.
Who can participate?
Each Innovation Community cooperates with local innovators – individuals (e.g. students, researchers, entrepreneurs) and organisations (e.g. SMEs, universities, research labs, regions, NGOs and cities) - in its EIT RIS activities in education, business creation and acceleration, and innovation-driven research. Through the EIT RIS, our Innovation Communities also seek to establish a structured dialogue with national, regional and local authorities in EIT RIS eligible countries to contribute to a better understanding of the value of the EIT's unique approach to innovation through the Knowledge Triangle Integration. These authorities may contact the Innovation Communities for their experience and knowledge to support their policy making and implementation processes.
How to get involved?
Download here the EIT Community Regional Innovation Scheme leaflet.
Synergies between the EIT RIS and Smart Specialisation Strategies (RIS3)
The EIT RIS has been conceptualised in a way that allows for synergies and efficiency gains for regions that have been designing Smart Specialisation Strategies (RIS3) and are looking for better integration of the Knowledge Triangle as a driver for enhanced innovation capacity at regional level. More than 120 smart specialisation strategies and their specific priorities provide a starting point for establishing cooperation with local enterprises, researchers and public bodies delivering innovation and industrial transformation, because many regions and countries have identified priorities that are in tune with the themes of the Innovation Communities.
The Innovation Communities, through their innovation hubs, and the future EIT Hubs, as active innovation facilitators for local actors, have a key role in regional and inter-regional economies, by stimulating the flow of ideas and supporting projects and investment within and across borders. With this in mind, broader EIT RIS impact at national and regional levels can be achieved by interacting with the national and regional authorities responsible for RIS3, managing authorities, regional institutions and implementing actors in the field.
EIT RIS contacts:
Download the EIT RIS logo here and the EIT Community Regional Innovation Scheme leaflet here.