EIT Food launches the second edition of Food FUN&FAN
Image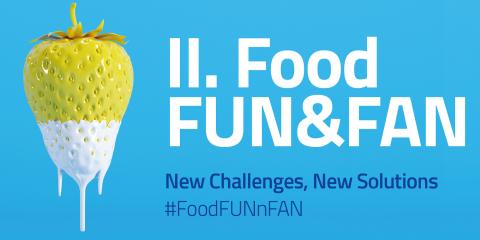 The second edition of EIT Food FUN&FAN, "New Challenges, New Solutions", aims at gathering relevant actors of the agrifood entrepreneur ecosystem behind a compelling agenda with round tables and startup activities.
The main objectives are enriching and stimulating the business creation activities at regional, national and European level, connecting local startups with international startups, investors and industry, and creating synergies that foster new ways of producing, distributing and consuming foods.
This event will be led by several amazing industry leaders:
Begoña Pérez Villarreal, EIT Food South Director
Einav Gefen, Corporate Executive Chef at Unilever Food Solutions, North America 
Paola Giavedoni, EIT Food Director of Innovation
Joseph Gridley, EIT Food Business Creation Manager  
Garbiñe Henry, Innovation and Entrepreneurship director, University of Deusto  
Ananya Manna, Agri-food Investments | CFA  
Juan Manuel Revuelta, General Director at Finnova
Oscar Longares, Business Development at Feeltwood 
Elisabet Gosospe Gorostiza, Head of the Entrepreneurship and Training Area at Hazi Fundazioa
Lara Rodríguez, EIT Food Project Manager 
Isabel Iturbe, vicepresident at AED and president at Bilbao Basket  
Iratxe Perales, Sonicat Systems Cofounder&COO 
Anais Iglesias, Head of Entrepreneurship and Lecturer Basque Culinary Center  
Carolina Najar, BAIBA The Kitchen
Giuseppe Scionti, CEO & Founder at NOVAMEAT 
The top startups participating are:
FOOD WASTE
Bio2Coat: has developed and produced edible food coatings, made entirely from natural sources, which are applied to preserve and extend the shelf life of food. It is a colourless, fragrance-free, flavourless thin coating that can be consumed together with the food product without any impact on its sensory characteristics.
Biotip: has developed freshness stickers that can be put on fresh products to detect realtime expiry date.  The Freshness-Sticker is a small bag, which contains a sample of the product and bio-chemicals which through the chemical reaction indicates the freshness state via color change on the Freshness stickers.
Crover: has developed a small robotic device that can "swim" through bulk solids like cereals and grains, constantly monitoring their condition while they are in storage. By leaving no grain unchecked, the robotic device limits the impact of spoilage and infestations and ultimately avoids any loss of profit due to grain quality loss.
Free Waste: has developed a food waste processor that turns organic waste into compost tea, that is easy to apply and is high in nutrients.  This biological system does not use any chemical compound, but simply allows to speed up what normally happens already in nature with bacterial degradation.
Nanomik Biotechnology: has developed and produced micro-encapsulated, plant-based biopesticides that work as fungicides for the agricultural and food supply chain industries. Their first product is a natural preservative called Mikoks used for grapes and tomatoes that increases the rate of crop yields while decreasing food-loss at the pre-harvest stage. 
SoundSafe: has developed  an innovative solution to reduce waste and increase post -harvesting life of fresh agricultural products using ultrasonic and microwave customised radiation.
Tsenso: has developed a  B2B cloud solution that evaluates the real-time freshness of food - called the "Fresh Index - throughout the journey of products from farm to plate.
WELLBEING
Alacarte Ventures: has developed the first machine that reduces the quantity of alcohol and the calorific value of wine and spirits. The Alacarte' personnalisable solution allows consumers to choose the percentage of alcohol within the beverage that they wish to consume and can reduce the ABV by 80% in less than 5 minutes while also removing sulphites.
Danone Planetary Beverage: made from grass fed milk, natural and full of good nutrients, whey is currently wasted by dairy factories. Under the Volvic brand, Planetary Beverage uses whey to make a tasty and nutritional drink.
Danone Volvicist: is developing refillable bottle together with a companion app  to encourage the preservation of water ecosystems and provide safe drinking water access to people in need , while at the same time encouraging healthier drinking habits.
FooD'Nassay: has developed an innovative way to detect foodborne pathogens. Traditional methods usually take a week but with their device they can do it in less than one working day turning a several billion euros bottleneck into value.
ReGenius Loci: has developed a device that can determine the amount of nickel in food/fluids in real-time and on-site, so that people allergic to nickel can make informed food choices. 
SUSTAINABLE AGRICULTURE