EIT Food: Opportunities arising from COVID19 for Agrifood in Southern and CE Europe
Image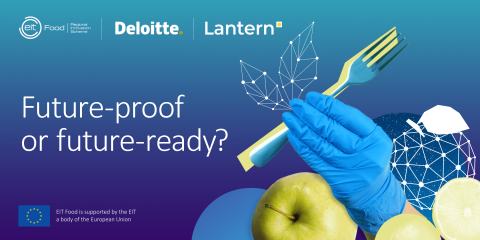 The Agrifood Sector in Southern and Central Europe: Future-proof or Future-ready?
What can we do to better prepare for the transformation of the agrifood sector after coronavirus? What can we learn from the crises and what can we expect in the post-COVID-19 future?
Take part in this launch event presenting the results and insights of the EIT Food Foresight analysis on the COVID-19 impact in the agrifood sector in South and Central-Eastern Europe. As the EU Commission stated, Strategic foresights will play a key role in helping future-proof EU policymaking by ensuring that short-term initiatives are grounded in a longer-term perspective.
The EIT Food Strategic Foresight Analysis outlines how COVID-19 has affected the agrifood system in Europe, what the possible future scenarios are and how we can use the opportunities that come out of this pandemic. Key insights from South and Central European countries will be shared in the following areas:
Primary production
Food manufacturing and supply chain
Retail
HoReCa
Consumer habits
The event will also count on a roundtable on how COVID-19-related opportunities can be translated into public policy solutions in the light of Green Deal, the Farm-to-Fork strategy and Smart Specialization Strategies.
AGENDA
10.00 - 10.10 Welcome
10.10 - 10.20 What's EIT Food and why we conducted foresights on COVID19 impact? 
10.20 - 11.10 Impact of COVID19 and future scenarios for the primary production, input providers and food processing in RIS region  
11.10 - 12.00 Impact of COVID19 and future scenarios for retail, HoReCa, consumers in RIS region and future scenarios for the sector 
12.00 - 12.40 How COVID19 related opportunities can be translated into public policy solutions in the light of Green Deal, Farm-to-Fork strategy and Smart Specialization Strategies? - Roundtable
12.40 - 12.50 Q&A session
12.50 - 13.00 Closing remarks