EIT Health second Matchmaking event for Business Plan 2022
Image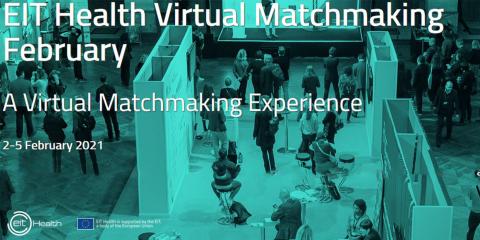 On 02-05 February 2021, the second EIT Health Matchmaking event for Business Plan 2022 will take place fully online.
The first Matchmaking event took place in November. The EIT Health Matchmaking events are among the key events of the year that EIT Health organises with its partners. These strategic events allow meaningful community networking and accelerate project proposals between EIT Health partners by giving them a space for pre-scheduled one-to-one meetings to establish new and fruitful collaborations. The programme of these meetings will also feature collaborative sessions for Education and Business Creation activities.
The main objectives of the EIT Health Matchmaking events are:
Deliver key information and updates regarding EIT Health's Business Plan 2022 Calls
Organise individual partner meetings on project proposals and possible partnerships
Enable networking with partners and getting to know each other
Registration
Registration will be open until Monday, 1 February. Please note that the event has a maximum capacity and if this is reached we have the right to close registration early.
More information
The event will consist of joint sessions to learn more about the EIT Health Business Plan 2022 and participants will have the chance to schedule meetings with other partners. 
Please note that all sessions will be recorded and be made available On Demand 48 hours after the event.
Please visit the website for the agenda and up-to-date information