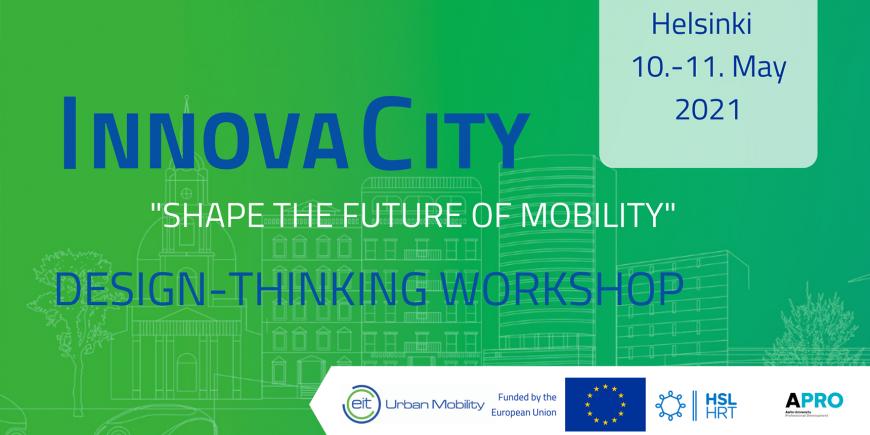 EIT Urban Mobility is calling for mobility innovators! Join the Design-Thinking Workshop and help solve the mobility challenges of Helsinki.
Do you have an innovative solution to improve mobility in Europe? Are you interested in growing your network and learning about design thinking?
EIT Urban Mobility invites you to join Europe's Largest Mobility Competition with five online design thinking workshops that bring together innovators, entrepreneurs, companies and cities to shape the future of urban mobility.
The InnovaCity Design-Thinking Workshop is organised in cooperation with the HSL Helsinki Region Transport and will take place from May 10 full-day and May 11 half-day (afternoon).
Participants will develop actionable solutions to urban mobility challenges with the winning teams receiving a chance to work with key stakeholders.
Join EIT Urban Mobility and stamp your mark on the future of urban mobility in Europe. This is a 1.5 day hackathon-style workshop providing participants with the essential skills of design thinking and the opportunity to apply these skills while working to solve the biggest mobility challenges.
Tackle real world challenges
Learn user-centred design
Connect with key stakeholders
Win amazing prizes
This event is open to all innovators, entrepreneurs, companies, and citizens to solve the strategic mobility challenges of the municipality of Helsinki. Can't afford a ticket? Don't worry! We don't believe in creating barriers for innovation and entrepreneurship. Simply apply for a waiver ticket by writing an e-mail to constanze.karl@unternehmertum.de.