Join The Ecosystem Summit 2023: the ultimate arena for start-up programme leadership
Image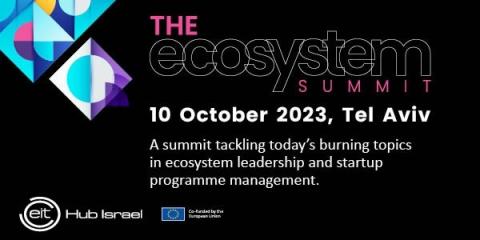 Join EIT Hub Israel's summit to tackle today's burning topics in ecosystem leadership and start-up programme management!
The Ecosystem Summit provides a platform for ecosystem leaders and start-up programme managers to examine the latest global trends and challenges in the entrepreneurial industry. This is an opportunity to examine your current role at each stage of the startup journey and gain a fresh perspective on ecosystem management. The summit is also a global in-person networking opportunity that strengthens the community and facilitates organic connections for future collaborations.
At the Summit you will :
Explore the transformative TRENDS shaping the startup ecosystem.
ACCELERATE your activity and UPSKILL your professional toolbox.
ENGAGE in insightful sessions with influential global industry leaders.
NETWORK with peers steering the startup ecosystems worldwide.
Agenda
| | |
| --- | --- |
| 09:30 - 16:00 | The Ecosystem Summit |
| 16:00 - 18:00  | Invite Only VIP Happy Hour |
Last year's agenda highlights 
"Conversations in the VC World – Are we in the Midst of a Power Shift?"
Initial reports reveal a 27% decrease in H1 2022 investments from the previous year in Israel. In 2021, we saw startups selectively choosing who can join their latest round. In 2022, VCs must decide which startup gets their investment. Who really holds the power today? Were the assessments from the beginning of the year too cautious or not cautious enough? What should we be doing to prepare the startups in our ecosystems for the VC world of 2023?
"The Complex Relationship Between Startups and Startup Programmes – Have Startups Become Ungrateful or have Programmes Become Irrelevant?"
As ecosystem managers at EIT Hub Israel, the relationship with startups is our bread and butter. However, in a saturated market, startups have their pick of entrepreneurial programmes to join. Additionally, founders are torn between the need to manage and develop their startup, and being expected to actively participate in startup programmes that open new channels for investments and growth. This leads to a complex dynamic that should be addressed by both startups and programmes, ensuring that we prioritize the needs of startups.
"Open Innovation – Moving to Challenge Based Acceleration for Real Results"
What is the future of accelerators? Open innovation experts believe that challenge based programmes are key to keeping accelerators relevant. But, will this be enough to keep programmes alive? Are programmes necessary or will the industry work to help startups address their challenges?
For more information or if you have any questions, reach out to tal.caspi@eithubisrael.eu