207 ground-breaking innovations and ventures awarded €60 million from EIT Crisis Response Initiative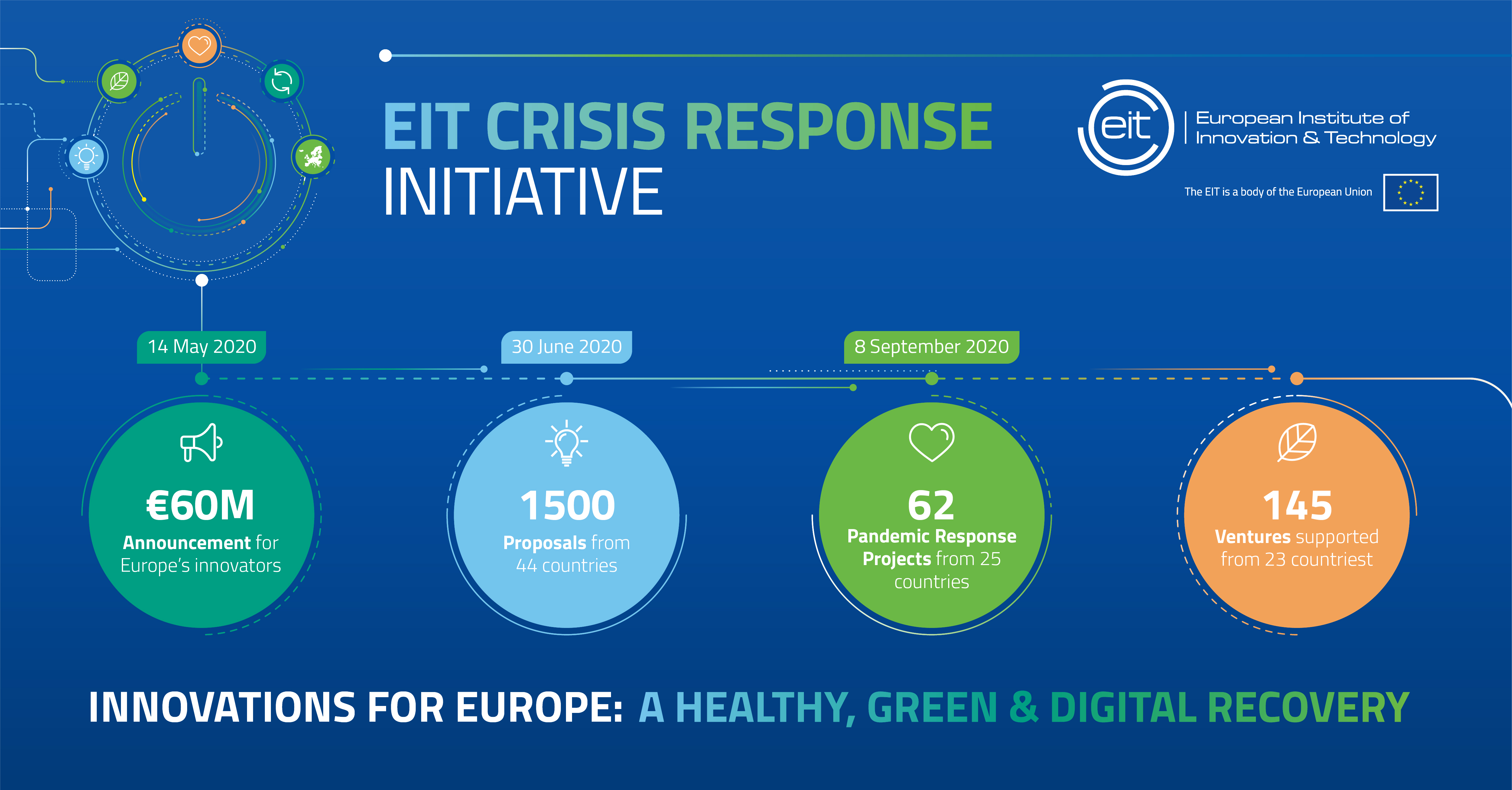 As part of the EU's efforts to tackle the COVID-19 pandemic, the European Institute of Innovation and Technology is proud to announce the EIT Crisis Response Initiative results: EUR 60 million awarded to 207 innovation projects and ventures from 32 countries.
As part of the 'Pandemic Response Projects', 62 new innovation projects, bringing together 212 partners from 25 countries, are developing solutions directly tackling COVID-19 related challenges. The 'Venture Support Instrument'  is supporting 145 start-ups, scale-ups and SMEs from 23 countries that have been enormously impacted by the COVID-19 crisis.
Download the press release below:
Discover EIT Crisis Response Initiative innovations
The selected innovations provide immediate solutions within the EIT's key focus areas, from health and digitisation to food and urban mobility, to meet the wide array of challenges posed by the crisis. The 207 projects and ventures supported include, among others, effective solutions such as biotechnology and diagnostics, using 3D prototypes to re-configure congested parts of the city and co-working areas, supporting food supply chain disruptions, and solutions to reduce airborne contaminants. More information on selected projects and ventures offering innovative solutions can be found here.
Through the rapid mobilisation of the EIT Community, the EIT is delivering short-term innovation projects while powering long-term investments into Europe's recovery by helping to secure critical funding for start-ups, scale-ups, and SMEs that are experiencing significant difficulties, including loss of capital and customers.
By deploying a rapid response mechanism, all EIT Crisis Response activities will be completed by the end of 2020 to help Europe recover. 
Discover EIT Crisis Response Initiative innovators and entrepreneurs