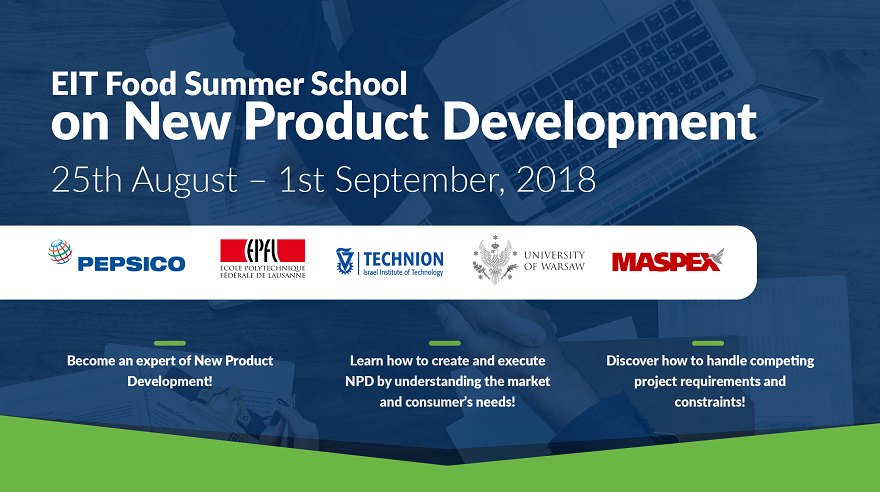 Are you ready to take your New Product Development skills to the next level?
Twenty-five participants from different backgrounds and countries will come together at the EIT Food Summer School to gain knowledge of the tools, techniques, and methodologies used in the process of new product development (NPD) in the food industry. After eight days of not only listening, but also experiencing the practical application of these tools and techniques in a simulated environment, our participants will be ready to initiate, plan, execute, monitor and control projects aimed at the development and marketing of new products and services, as well as to introduce innovations to the market in the food industry.
The EIT Food Summer School on NPD does not charge a tuition fee.
When and where?
The EIT Food Summer School takes place 25 August – 1 September 2018 at the Faculty of Management of the University of Warsaw.
The application deadline is 15 May 2018.
Who can apply?
Applications are open for food sector professionals from EIT Regional Innovation Scheme (EIT RIS) countries:
Albania, Armenia, Bosnia and Herzegovina, Bulgaria, Croatia, Cyprus, Czech Republic, Estonia, Faroe Islands, Former Yugoslav Republic of Macedonia, Georgia, Greece, Hungary, Italy, Latvia, Lithuania, Malta, Moldova, Montenegro, Poland, Portugal, Romania, Serbia, Slovakia, Slovenia, Spain, Turkey, Ukraine.
EIT Food is targeting professionals from small and medium sized companies, people connected to NPD and individuals that have worked in food industry in the past or want to be a part of food sector in the future.
EIT Regional Innovation Scheme
The EIT Regional Innovation Scheme (EIT RIS) is the EIT Community's outreach scheme. The scheme enables the transfer of good practices and know-how from the EIT's unique approach to boosting innovation. The EIT Regional Innovation Scheme was introduced in 2014 to share good practices and experience emerging from EIT Community activities and to widen participation in our activities across Europe.
---
Catch up with the latest news from the EIT Community in the Newsroom.
Subscribe to the EIT Newsletter to get the best of the EIT Community's news in your inbox once each month.
Do you use social media? Follow us and get updates in your news feed.