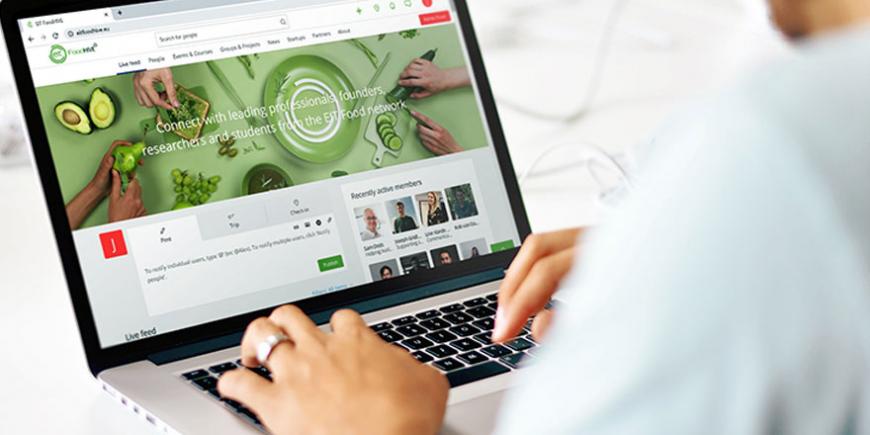 Challenges in the food system can only be solved by working and innovating together, collaboration is key.
However, collaboration between multiple players in the community can be challenging without a platform that facilitates this. FoodHIVE is looking to overcome this challenge by enabling everyone in the community to work together.
What is EIT Food's FoodHIVE?
FoodHIVE is a new online membership community platform where those in the EIT Food Community, such as universities, research institutes, industry, start-ups and students, can connect and share with each other.
Through FoodHIVE, members will be able to exchange ideas, get mentorship, implement projects and collaborate directly as well as share knowledge, all in a convenient virtual environment. The platform contains a big community space, providing a live feed, news feed and events page, and then within this are lots of smaller communities known as 'groups', which provide virtual spaces where members can work together on specific projects or challenges.
Other functionalities of FoodHIVE include a range of communication tools, which enable you to either directly email people or use the platform messaging tool. You will also be able to join events which will be promoted on the platform. FoodHIVE provides access to the whole of the diverse EIT Food community.
What are the benefits of the platform?
A space to connect with others in the EIT Food Community and work together on projects
Personal profiles for members to let others know who you are and what you are working on
The ability to post real time updates on group projects in a live feed
When can I join FoodHIVE?
Pilot testing is currently taking place with a small number of project groups, and a full launch is planned for the beginning of 2020. Once launched, it will be made available to everyone connected to EIT Food, across the whole food value chain – ranging from students or alumni, to start-ups getting support, and all industrial, research or university partners that are participating in innovation projects.
Access to the knowledge and experience offered by the wider EIT Food Community is one of the most valuable benefits that comes from being involved with EIT Food. Look out for more information about how you can benefit from the collaboration opportunities offered by Food HIVE towards the end of the year.