EIT Climate-KIC Accelerator for EIT Regional Innovation Scheme countries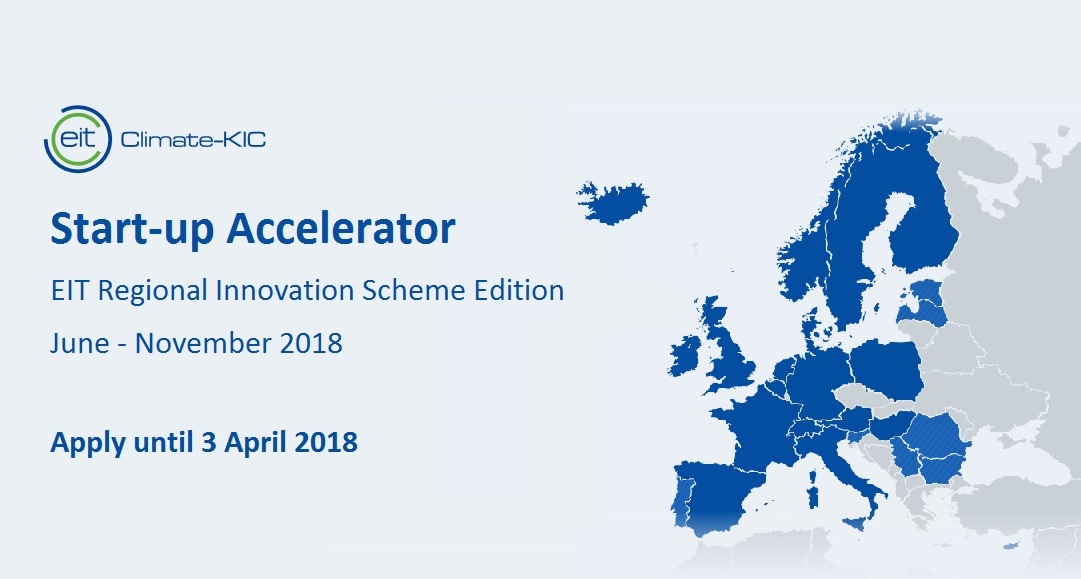 EIT Climate-KIC Start-up Accelerator
EIT Regional Innovation Scheme (RIS) Edition
Open for applications until 3 April 2018
EIT Climate-KIC Accelerator: where great ideas grow into great businesses
The EIT Climate-KIC Accelerator is the only EU accelerator programme focused on climate impact by cleantech commercialisation - now coming to more regions across Europe!
Get access to an extensive international network, great education, intensive coaching and substantial financial support.
This edition of our start-up Accelerator is open for applications for start-ups in the following EIT Regional Innovation Scheme (EIT RIS) countries:
Bulgaria, Cyprus, Estonia, Latvia, Malta, Portugal, Romania, Serbia, Slovenia
You can also apply if you are from one of the following countries, but you have to make sure that you can attend all compulsory programme components in one of the above nine countries: Croatia, Greece, Lithuania, Albania, Bosnia and Herzegovina, Macedonia, Moldova, Montenegro.
What is it all about?
EIT Climate-KIC Accelerator is Europe's largest cleantech accelerator for early stage startups. It is focused upon getting startups ready for their first investors and customers and helps them scale their business.
EIT Climate-KIC is looking for innovators with breakthrough ideas to counter climate change. If you are an early-stage startup (up to three years) or you are working as a team and want to create a startup based around a new technology or service with high potential for both commercial viability and climate impact, then this is the right place for you!
What is in it for you?
Financial support up to 50 000 EUR per team (depending on stage)
Expert coaching, pitch training and workshops
Mentoring and networking
International Bootcamp
Access to EIT Climate-KIC partners and network
2018 Timeline
Image

---
Catch up with the latest news from the EIT Community in the Newsroom.
Subscribe to the EIT Newsletter to get the best of the EIT Community's news in your inbox once each month.
Do you use social media? Follow us and get updates in your news feed.