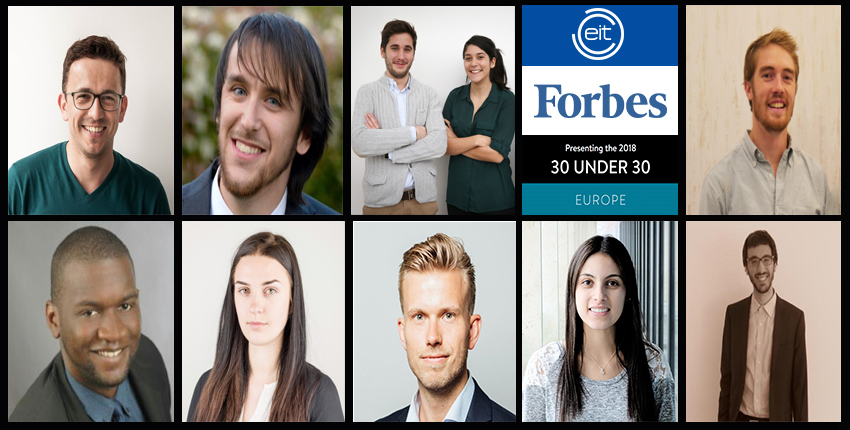 In the last three years, the EIT Community has had 32 ventures or people featured in the Forbes 30 under 30 list.
This year, the EIT Community has scored nine successes across three categories. Tibor Navracsics, European Commissioner for Education, Culture, Youth and Sport and the Commissioner responsible for the EIT, said: 'Another year, another wonderful success for the EIT Community. I am proud that this prestigious list acknowledges young entrepreneurs who have been supported by the EIT in boosting their competences and turning their ideas into innovations that benefit all of us. We must step up our efforts to enable young Europeans to develop entrepreneurial mind-sets and make the most of their lives. This is key in building a resilient, competitive Europe for the future'.
Martin Kern, EIT Interim Director, said: 'It's great to receive news of Forbes continued recognition of the EIT Community. I'm proud of our Innovation Communities and really pleased for the young innovators whose hard work and dedication leads them to such recognition. We need to increase our support to Europe's entrepreneurs so more have access to such opportunities' .
Science & Healthcare
Estefania is a graduate of EIT Climate-KIC's PhD programme and the former President of the EIT Alumni Association.
DAMAE Medical's mission is to put the great power of bio-photonics at the service of opening new opportunities in medical imaging and diagnosis. Bio-photonics is the science that uses light to analyse biological objects structure and modification. Thanks to a leading-edge research and know-how in non-invasive imaging, DAMAE Medical aims to transform medical diagnosis procedures for better healthcare conditions and accessibility to patients, practitioners and institutions.
HPNow provides a first of its kind solution for on-site, on-demand production of hydrogen peroxide. Its devices greatly simplify the logistics of hydrogen peroxide application in the global agriculture and food industries for its use as an environmentally friendly disinfectant and biocide.
HPNow's solution displaces currently used toxic chemicals and dramatically decreases their environmental footprint in a cost-competitive process.
Social Entrepreneurs
Sympower's goal is a low-carbon, high-tech future. By providing typical households with a free smart system that integrates with heating and cooling devices and shifts the usage to cheaper hours (without compromising comfort), Sympower reduces household energy bills.
Industry
Pydro was founded in 2016 with the mission to build the most compact energy recovery technology for water pipe networks.
Energy Way has developed Baseline Dinamica, an innovative solution that allows the control, prediction and reduction of energy consumption. Their methodology allows the processing of a very high number of data and correlate complex phenomena, giving the possibility of performing a fine tuning of complex industrial processes.
3YOURMIND develops 3D printing software solutions for enterprise businesses and 3D printing services to access internal and external printing capacities and develop efficient workflow processes.
Their enterprise 3D software is being used by DAX 30 companies, leading 3D print service providers and forward thinking businesses around the world. The platform provides instant analysis of printability, pricing and delivery time to guarantee a quality 3D print, every time.
Nordic Automation Systems (NAS) is an industrial automation company creating sensor technologies, data analysis and monitoring solutions. NAS believes in the world with precise data and less tedious repetitive manual tasks. This it will make to happen by joining EIT Digital Accelerator scale-up program and in the same accelerating its sales pipeline build by few millions of euro in 2018, added to organic growth
---
Catch up with the latest news from the EIT Community in the Newsroom.
Subscribe to the EIT Newsletter to get the best of the EIT Community's news in your inbox once each month.
Do you use social media? Follow us and get updates in your news feed.