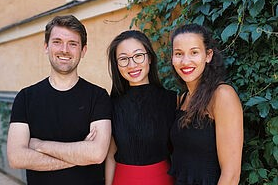 Lipstick and technology. That are the ingredients of the startup that won the EIT Digital Alumni Startup Contest 2020.
The cofounders Selah Li (CEO) and Marc van Almkerk (CTO) won tickets to a major tech conference to showcase their company Ellure.se that enables customers to make their own customised lipstick. According to the EIT Digital Alumni foundation, the jury unanimously voted for this start-up that wants to set a standard in the beauty industry.
This is amazing news! We are so honoured to be recognised as the startup of the year. Winning competitions like these shows that hard work pays off and it means a lot that our effort is recognised. And we can't wait to present ELLURE to the world.

- Selah Li, CEO ELLURE
The EIT Digital Alumni Startup of 2020 is the fifth start-up contest in row of the EIT Digital Alumni Foundation. With this annual contest, the foundation is recognising the entrepreneurs in its community. The initiative is aimed at early stage start-ups (co-)founded by EIT Digital Alumni members. Winners get exposure within the EIT Digital ecosystem and get to showcase their start-up at tech conferences, like Slush and TechCrunch Disrupt. If, due to the coronavirus pandemic these conferences are cancelled, an alternative money prize of EUR 1 500 for the company is in place.
The pitching of the 22 participants had also been done completely online, directly to a panel of jurors. The pitching sessions were held on 2 and 7 July 2020 online. Li: 'It was fun to know that so there are so many other entrepreneurs in EIT Digital, coming from different countries, also working on their wonderful ideas.
Jury
The winner has been exclusively chosen based on the assessment of independent experts from the EIT Digital Academy and EIT Digital Accelerator. All participants had been ranked on the criteria WHAT, HOW and WOW. The jury members were Hani Tarabichi, Industrial Doctoral School Education Coordinator at EIT Digital Doctoral School and EIT Digital Summer School Organiser in Helsinki, Karin Oost, Communication Lead at EIT Digital, Mike Bradshaw, Startup coach at Helsinki StartupDigest, MobileDevCamp.fi, Outi Toijala, Access to Market Lead at EIT Digital Accelerator, and Philips Petersen, Business Developer at EIT Digital Accelerator.
Ellure
Ellure.se is founded to solve a beauty problem. What colour to choose from the mass-produced, off-the-shelf lipsticks when the colours appear different on different lips? Ellure offers a personalised liquid lipstick in an on-demand fashion. The customer can personalise their own lipstick to the criteria she or he wants. In so doing, Selah Li, says that this mass personalisation solution helps reduce waste. 'Our mission is to make beauty products that are loved by people and the planet. We want to set a new standard in the beauty industry.'
Augmented Reality
The co-founders, started in 2017 after they met each other during their studies Human Computer Interation and Design at the EIT Digital Master School. They have been developing their solutions, a web based Augmented Reality (AR) system customers can try the colour in AR, a small scale built production machine that can realise over 10 000 different colours within one minute, an algorithm to design the colour, and a lipstick formulation that is suitable for automation, in the last three years. this year they are going to the market, they already have a waiting list of over 600 customers built up in the last two months.
According to Li, Ellure will be launching within a few weeks a pre-order of Ellure's liquid lipsticks to the market via its website. 'It's a limited edition sale with only 200 lipsticks available.' The official launch of Ellure is planned in October with pop-up stores and events 'to show how a custom-made lipstick is made in just one minute.'
New York
Earlier, Ellure won the KTH Innovation Brighter Program which resulted finally in winning a desk for one year at the Swedish-American Chamber of Commerce's co-working space Gateway in New York.