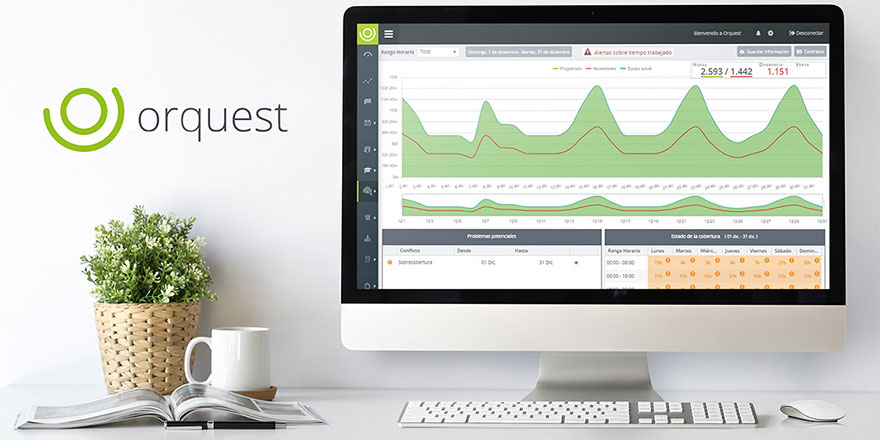 ORQUEST uses Artificial Intelligence to improve sales and reduce employee costs by allowing retailers to schedule, plan, and forecast the shop's sales and employee activities.
ORQUEST was founded in 2017 in Madrid, Spain, by a team of entrepreneurs with in-depth knowledge of Artificial Intelligence, Business Decision technologies, and the retail market. ORQUEST gives retailers full control over scheduling and planning, which in-turn allows owners to increase sales and productivity, store performance, and labour regulation fulfilment.
It's essential for retailers to have enough employees on hand to meet customers' needs and ensure full productivity. ORQUEST helps retailers organise employees' shift schedule within a range of retail segments, including fashion, cosmetics, sports, electronics, and fast food. Retailers can also respond to unforeseen events and manage absenteeism day-to-day with their rescheduling feature.
To manage the busy in-store periods of high footfall, the software coordinates employee's schedules and tasks with customer visits, so retailers remain compliant with legal regulations while minimising salary costs.
Currently, ORQUEST is present in 11 countries and used by more than 1 200 establishments. These establishments rely on ORQUEST's scheduling and planning features to manage more than 34 400 employees and improve in-store efficiency. ORQUESTS customers include well-known brands like McDonald's (Spain), Inditex, Douglas España, Parques Reunidos, and Sprinter.
Following its international expansion strategy, ORQUEST has joined the EIT Digital Accelerator to extend their international reach and penetrate new markets. CEO of ORQUEST, Alberto Del Barrio, commented: "We are delighted to start our collaboration with EIT Digital, to boost expansion in Europe's core markets like France, Italy, Germany and Benelux countries."
Expanding further, Business Developer at EIT Digital Accelerator, Javier Benito Bilbao, added, "ORQUEST keeps one step ahead of their competitors by customising their AI algorithms to the new climate in the retail market after the COVID-19 impact. EIT Digital is excited to use our broad network of partners and corporate contacts to help ORQUEST access international markets."
Further information