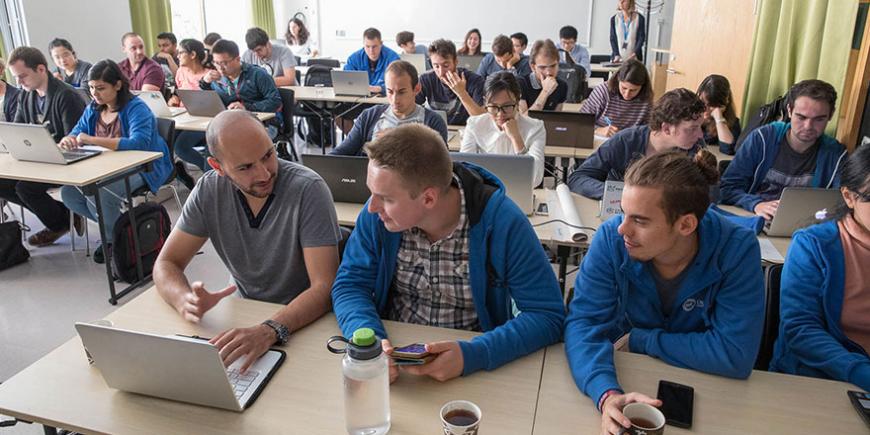 EIT Digital Master School project raised EUR 1.5 million funding.
Technology and entrepreneurship fans Roman Prytkov and Tolga Varol met at the EIT Digital Master School, then jointly sowed the seeds for their start-up DriveTrust during the Summer School. Before they had finished their master's, they had already raised EUR 1.5 million in funding when their Summer School project had become an EIT Digital Innovation Activity, seeing them partnering with big European companies.
EIT Digital Summer School
At the Internet of Things Summer School, Varol and Prytkov discovered that they both shared the same dreams. The EIT Digital Summer School is mandatory for the EIT Digital Master school students. In here, building business solutions alongside taking classes on how to turn technology into business opportunities and working with real-life case studies are core aspects of the summer schools, which are also open to professionals. At the end of the course, students get the chance to pitch their ideas in a final competition.
Together with two other team members, Prytkov and Varol came up with an idea which they called DriveTrust.
We wanted to think about how to prevent pollution and promote environmentally-friendly driving. That was too complicated. We then came up with a smart tracking device that could analyse driving behaviours and help drivers to improve in order to support traffic safety and eco-friendly driving. I don't like hot headed drivers who cut corners.

Roman Prytkov
Despite their strong confidence that they had a winning concept, they did not win the pitching competition. But, due to their clear belief in their idea, they decided to continue with it.
From start-up to EIT Digital Innovation Activity
Prytkov saw a chance to leverage the EIT Digital Master School's infrastructure to further develop the idea; he could base one technical project and one Innovation & Entrepreneurship project around DriveTrust.
I also got accepted into the Incubator, a programme within the EIT Digital Master School in Rennes in which you can work on an idea and develop a business case. The time spent there can be counted as an internship. I got help from other students - including the one who won the summer school pitch. I am happy that EIT Digital and its partner universities offered these opportunities.

Roman Prytkov
Alvaro Pina Stranger, the co-location manager of the EIT Digital satellite office in Rennes, suggested to Prytkov that he should put DriveTrust forward for an Innovation Activity at EIT Digital. EIT Digital annually issues calls for proposals to stimulate innovation in Europe. Proposers can submit ideas for a new start-up, product or service based on deep tech. After approval, participants receive co-funding and have a year to come up with results. Prytkov had two days to prepare a pitch which he delivered at the EIT Digital headquarters in Brussel.
Then the most challenging part of the application process started: finding business partners. One condition for applications is that a joint innovation plan should be submitted, with two to five other, complementary organisations from the EIT Digital ecosystem. They analysed the EIT Digital's partner list of over 200 European organisations and began calling all of those that looked like they might be a good match for DriveTrust and if they would be interested in co-funding.
Prytkov and Varol garnered a lot of positive feedback and were finally able to submit the proposal for DriveTrust together with IMEC (headquartered in Belgium), the University of Rennes in France and CRF in Italy. And the proposal was approved. It even got designated as a so-called 'early-bird project', which meant the activity could start from 1 October, 2018 instead of 1 January, 2019. The approval includes EUR 1.5 million in funding from the partners and EIT Digital. EIT Digital will be a shareholder of 25 percent after the legal start-up creation.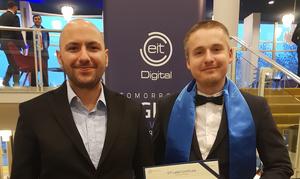 Tolga Varol (left) and Roman Prytkov (right)
Next steps
The two EIT Digital Master School students see opportunities for their device in the business to consumer market; for example, parents might want a behaviour-measuring camera for their children when they have just passed their driving test. However, they see more potential in the business to business market; car fleet owners and, in particular, the shared mobility and carpooling markets, with companies like Uber and BlaBlaCar could be potential customers.
DriveTrust is not the only company that makes driving-behaviour tools. The difference is, say the founders, that DriveTrust's solution is cheaper, more accurate and customisable.
As far as our research has shown, the competing products offer a maximum of two or three variants. In our case, without additional customisation costs, it is possible to have five to six variants in terms of AI accuracy, long and shortrange connectivity and optional V2X (vehicle to everything).

Tolga Varol
In 2017, they were each alone with their idea and dreams. Now, they have an office in Rennes, a small office in Paris and 12 people on the payroll. In total, 25 people work for DriveTrust, excluding subcontractors. Both IMEC and CRF are seconding engineers, product owners, team leader and developers to the start-up, while the university is lending fulltime technical employees.
In about five to ten years, leveraging on our IP and know-how, DriveTrust will be moving away from evaluating drivers to evaluating self-driving cars. There lies a huge market and future for us.

Tolga Varol