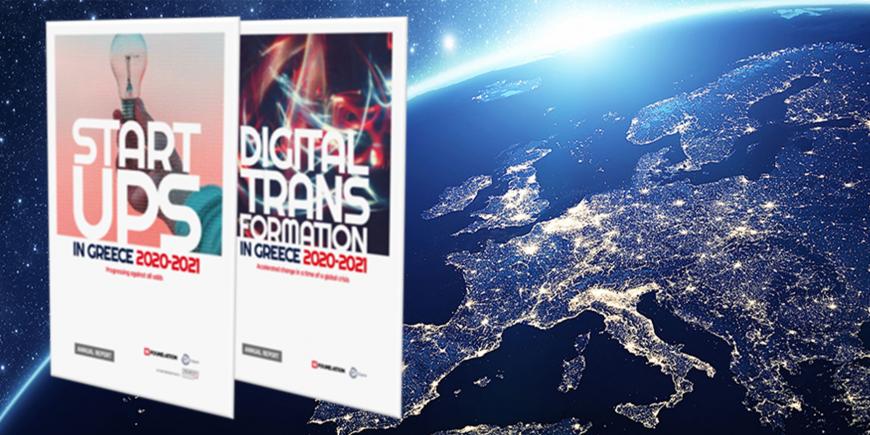 In the fourth edition of its report series, EIT Digital and Foun.dation present the latest on the Greek start-up scene and inform about the state of digital transformation in Greece.
Start-up in Greece 2020-2021
Start-up in Greece 2020-2021 provides a valuable scope of the Greek entrepreneurial scene and its development over the years. It presents the profile of start-ups and identifies the latest market trends, focusing especially on the investment opportunities available in the country and most of all, their impact.
The report highlights the positive impact of the EquiFund scheme, demonstrates that investments into start-ups were more selective, yet higher for the beneficiaries. Greek start-ups were of course affected by the COVID-19 pandemic, but with significant differences by sectors. Little surprising, hospitality saw the biggest negative impact, whilst others saw new opportunities and even hired new staff. Last, but not least, the report highlights several remarkable exits of substantial volume. Hence 2020 was a year of different shades for the Greek start-up community.
Digital Transformation in Greece 2020-2021
Digital Transformation in Greece 2020-2021 looks at the Greek business ecosystem, examines to what extent companies and large organisations have adopted Digital Transformation procedures, and pinpoints the reasons for delays. The report summarises the key digital transformation strategies commonly applied by industry leaders within the Greek context.
It is evident that the COVID-19 pandemic left its mark on the business world. Shifts and changes have taken place leading us all to a new reality. For this reality, technology is an enabler, but people skills and communication ought to take the front stage, as they are more important than ever. EIT Digital's report provides nine key learnings and recommendations for Greek business and industry. Read more in the report below.
The two reports are the result of a collaboration under the ARISE Europe Programme between EIT Digital and Found.ation, a leading start-up-enabling platform for tech-oriented products and services in Southeast Europe, a digital transformation accelerator for corporations and a tech education hub.