The 2019 EIT AI report is here!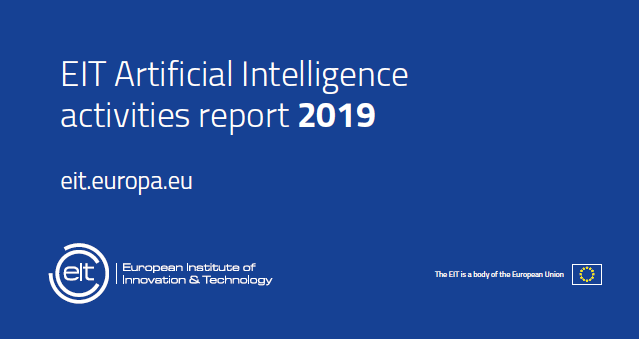 EIT Artificial Intelligence activities report 2019
In February 2020, the European Commission presented a white paper 'On Artificial Intelligence - A European approach to excellence and trust'. The paper sets out the Commission's proposals to promote the development of AI in Europe while ensuring respect of fundamental rights. Artificial Intelligence (AI) is developing fast, which is why Europe needs to maintain and increase its level of investment.  
With its extensive network and broad thematic coverage, the EIT is uniquely placed to help Europe make the most of the potential of Artificial Intelligence and keep up with the AI technological race. The EIT is one of the largest European public-private AI innovation initiatives and it has the capacity to accelerate and harvest AI applications that have a positive societal effect.
AI is a key driver of productivity and economic growth, and already has a significant effect on our daily lives. Through entrepreneurial education, business creation and acceleration and innovation activities, the EIT is already helping the EU to power AI innovation. You can discover more about this in this report that presents ongoing activities and achievements by the EIT Community in driving AI innovations across Europe.
Download the EIT Artificial Intelligence activities report 2019
As Europe's largest innovation network with more than 1 500 partners and 50 innovation hubs, its mission to tackle global challenges through innovation has already delivered support to:
120 start-ups in the field of AI
around 400 Master and PhD graduates in AI
Ongoing activities cover a wide range of topics and award-winning technologies to help tackle pressing challenges facing our society:
early detection of disease
work skills gap prediction
autonomous robots
data aggregators
and smart maintenance solutions for industry
Discover some of the inspiring activities and innovations featured in the report:
Human Capital: skill gap prediction in the energy sector
Fibricheck: stroke prediction in 60 seconds
ZRR: the smart waste sorting robot
Enway: driverless street sweepers
Disqover: big data aggregation for better healthcare
KONUX: Predictive maintenance for railways
The EIT Community and its activities will continue to support the EU and the European Commission's drive for AI. In particular, the EIT Community will contribute to the Commission's Coordinated Plan on Artificial Intelligence:
Action 2: the Commission will facilitate the creation of excellence and testing centres that can combine European, national and private investments, possibly including a new legal instrument. The Commission has proposed an ambitious and dedicated amount to support world reference testing centres in Europe under the Digital Europe Programme and complemented where appropriate by research and innovation actions of Horizon Europe as part of the Multiannual Financial Framework for 2021 to 2027.
Action 3: Establish and support through the advanced skills pillar of the Digital Europe Programme networks of leading universities and higher education institutes to attract the best professors and scientists and offer world-leading masters programmes in AI.
Action 5: In the context of Horizon Europe, the Commission will set up a new public private partnership in AI, data and robotics to combine efforts, ensure coordination of research and innovation in AI, collaborate with other public-private partnerships in Horizon Europe and work together with the testing facilities and the Digital Innovation Hubs mentioned above.