EIT Digital supported BLITAB featured in The New York Times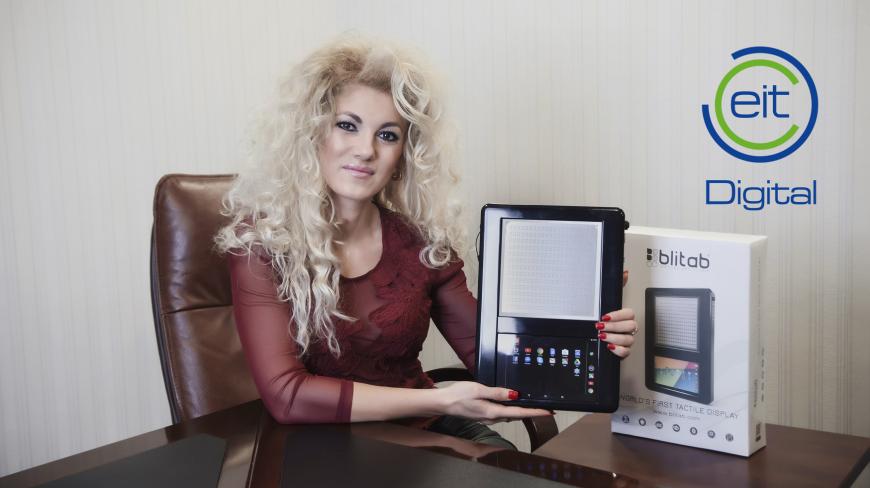 According to the Times, BLITAB can change the lives of visually impaired people
The New York Times published an article on BLITAB, the world's first tactile tablet, supported by EIT Digital. According to the Times, the potential for BLITAB to change the lives of people with sight loss is enormous.
Founded by Kristina Tsvetanova, BLITAB Technology joined the EIT Community after winning the 2016 EIT Digital Challenge in the Digital Wellbeing category. Since BLITAB's founding, Kristina has won the European Commission's Rising Innovator Award and was featured in the Spanish edition of MIT Technology Review as a European Innovator under35 Europe. In April this year, she won top prize in the 2018 Cartier Women's Initiative Awards, and BLITAB was recently selected among the finalists in the Index: Design to Improve Life, a Denmark-based design competition.
Image
In the article for the Times, Kristina said that the idea occurred to her when she was a graduate student and was asked to help a friend sign up online for a class. She was shocked that technology couldn't make that possible for her blind friend.
'BLITAB means literacy,
' she said.
'Reading it yourself is a big step toward independence.'
Read the full article in the New York Times. 
---
Subscribe to the EIT Newsletter to get the best of the EIT Community's news in your inbox once each month.
Do you use social media? Follow us and get updates in your news feed.