EIT Food improves children's relationships with food
What we put into our bodies is key in determining how healthy we are.
Being overweight and obese affects your health, and drastically increases the risk of developing cardiovascular disease, cancer and diabetes.
With over 50% of European citizens reportedly overweight, and this being set to rise over the coming years, we desperately need to start having a healthier relationship with our food.  
The World Health Organisation estimates that over 60% of children who are overweight before puberty will be overweight in early adulthood, so if we are going to improve our eating habits and change our behaviour, then it's important to tackle this issue early on. An EIT Food project is doing just that - the Food Schools Network is linking EIT Food to existing national school programmes across Europe and developing a portfolio of approaches within educational settings which could be used to improve children's relationships with food.
Changing perceptions
We know that eating in a healthy way doesn't just mean 'eating your greens'. However, children's ideas about food, and their understanding of what healthy eating entails, isn't necessarily the same as adults – they have much more limited experiences and often lack the knowledge to make informed choices. Also (as parents of small children will undoubtedly know), children can have a lot of misperceptions about how they think healthy food will taste, which often heavily influences what they will or won't eat. The ultimate goal of the Food Schools Network is to change the habits and perceptions of children in relation to what it really means to eat healthily by helping them to discover more about food and nutrition in a fun and interesting way.
A healthy diet during childhood and adolescence promotes optimal health, growth and cognitive development, and may contribute to the prevention of chronic diseases in later life. The numbers of obese children and adolescents in Europe have increased alarmingly and traditional communication initiatives aimed to improve children's eating habits, such as media campaigns, have had very limited impact. Therefore, there is a need to develop and implement effective approaches that will result in children and adolescents adopting healthier dietary habits.

Elena Santa Cruz, AZTI, a  Food School's Network project partner
The approaches being developed are different for each age-group, focusing on the interventions most appropriate and useful at each developmental stage. For pre-school children, this includes an educational tool which focuses on the acceptance of healthy food and self-regulation. For primary school children it includes nutritional education to improve understanding and perception of school meals. For secondary school children, this includes a range of approaches, developed with stakeholders, to positively influence food choice and reduce food waste.
Image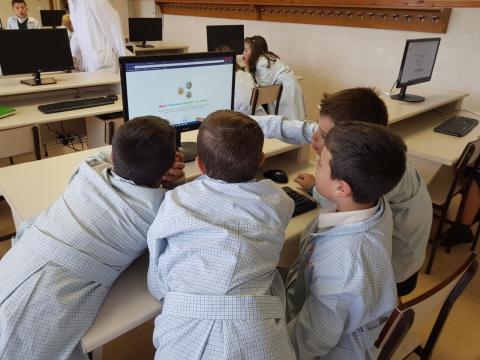 Learning the importance of healthy eating in a fun and entertaining way
The Food Schools Network project started in 2018, including EIT Food partners AZTI, Grupo AN, the University of Helsinki and Queens University Belfast. In 2019, the University of Reading and University of Warsaw also joined the consortium, extending the network's reach even further across Europe.
Project coordinator AZTI are responsible for encouraging the exchange of ideas and collaboration between the consortium partners. Recently, Elena has been working on activities for primary school children which are focused around an easy-to-use app: ¿Cómo como yo? which translates as 'How do I eat?'. This fun, interactive web-based app has been developed to assess food perception, by asking children about healthy products, preferences, consumption and their willingness to try new products. Valuable information gained from this is being shared across the network and used to develop future activities and interventions.
An important part of the feedback about the app we have been recently been trialled in primary schools was that children found it attractive and funny, and they also showed interest in obtaining dietary advice and learning more.

Elena Santa Cruz, AZTI
EIT Food, coming to a school near you soon?
The project started in 2018 and will run through 2019, but it is important for this work to continue and expand in reach. With that in mind, the Food Schools Network is currently being developed to make sure it includes the right stakeholders who are able to use insights gained to increase collaboration and help to take this work to the next level. So, could we expect to see some of these approaches being rolled out more widely in schools across Europe in the near future?
With childhood obesity on the rise in Europe, improving the eating habits of our children can't come soon enough. And who knows, maybe the young will be empowered to share their knowledge of healthy eating with the rest of their families, and teach the rest of us some new healthy tricks. 
Our main challenge now is to ensure integration into the activity of schools, to get interested stakeholders involved and to ensure a fun and adapted approach for each age group. We are working on consolidating the network, developing it further in order to increase its potential reach across Europe. This will help to further rollout the approaches we have developed to more schools and more children.

Elena Santa Cruz, AZTI