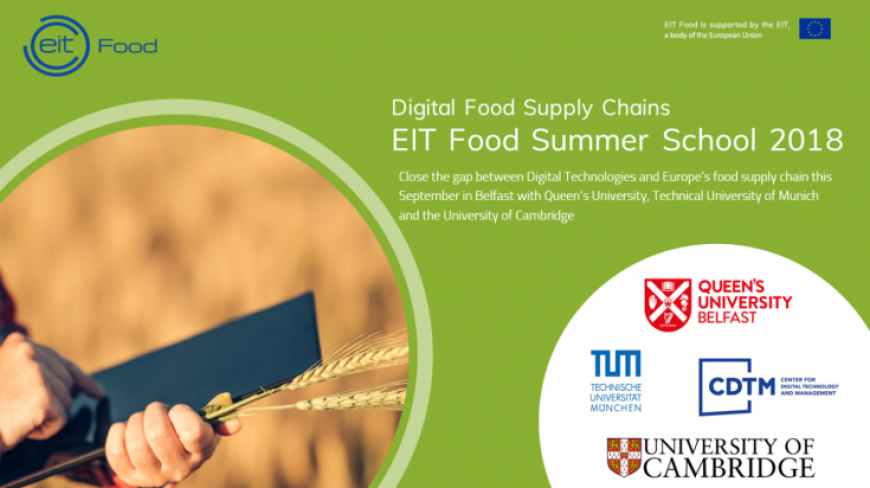 Are you ready to bring your ideas for a sustainable food supply chain to life?
Following the success of last year's Winter School, Queen's University Belfast, Technical University of Munich and University of Cambridge will come together to host an EIT Food Entrepreneurship Summer School this September in Belfast.
Programme description
During the EIT Food Summer School, 40 students from many different study backgrounds and countries will come together to bring their ideas for a sustainable food supply chain to life. Over the course of 6 days, participants will be working in interdisciplinary teams, to learn how digital technologies can be applied to foster sustainability and fair food supply chains. They will identify problems, prototype viable solutions with a validated value proposition and finally, pitch their results in front of a panel of experts.
The Summer School will take place in Belfast and be hosted by Queen's University Belfast along with partners, Technical University of Munich and the University of Cambridge. There will also be mentoring by industry experts and the chance to receive further online coaching on business model development.
Who should apply
Master students, PhD candidates, Post-docs and professionals.
Why should you apply
Participants will work together with mentors which will enable them to critically and precisely assess entrepreneurial concepts, enable professional communication, and presentation skills as well as interdisciplinary and intercultural skills.
Timeline of the programme
The programme will last for 6 days and will be based in Belfast. There will be three workshops:
The first workshop will take place on 8 and 9 September and will be conducted by Queen's University Belfast academics and researchers. Participants will learn the importance of leadership for innovation and entrepreneurship in the food sector.
The second workshop will take place on 10 and 11 September with coaching from the Technical University of Munich and industry experts.
The final workshop will take place on 12 and 13 September. Coaches from the University of Cambridge will take the ideas and products developed with QUB and TUM to the next level: these will be evaluated in terms of their commercial potential as well as their potential to solve a significant problem and the potential social and environmental impacts. The week will culminate with a structured pitch in front of a panel of entrepreneurs, industry partners, investors and support providers who will challenge the ideas and give feedback on the next steps of commercially viable and environmentally sustainable ideas.
Learning objectives and outcomes
Participants will gain knowledge of methodologies in product development in a food related start-up environment. They will enhance their ability to apply business model development and prototyping on practice-oriented problems in the field. The overall learning outcome for participants enables them to become responsible future innovators in Europe's food sector, which is equally important for both the economy and society.
Deadline for application
The EIT Food Summer School will accept 40 students in total. The spots will be filled on a rolling admissions basis. You will receive an invitation or rejection email, within two weeks of the closing date. This means you can submit your application between now and 20 July 2018 23.59 pm (BST). We will however, fill the available spots on a rolling basis according to our evaluation criteria, until they are full.
---
The EIT Food Summer School does not charge a tuition fee.
Travel costs: You will need to provide your own transportation to and from Belfast. Accommodation and meals between 7 and 14 September will be provided.
Applicants are required to submit an application, CV and video, in English.
---
Catch up with the latest news from the EIT Community in the Newsroom.
Subscribe to the EIT Newsletter to get the best of the EIT Community's news in your inbox once each month.
Do you use social media? Follow us and get updates in your news feed.