EIT Health: UK-Ireland Health Innovation Day draws more than 100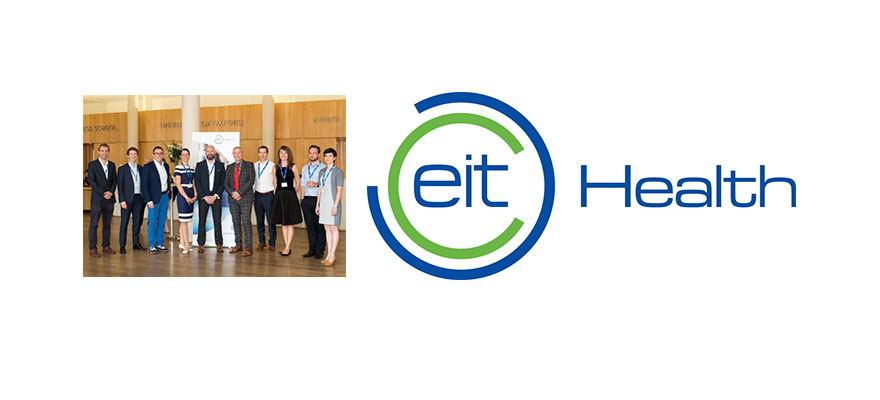 Discussions held on generating and funding Ideas in the Healthcare Innovation Sector.
On 19 July, over one hundred UK-Ireland based partner representatives, entrepreneurs, investors, academics and members of the general public came together at Oxford University's Said Business School to take part in EIT Health UK-Ireland Health Innovation Day 2017.
The day started with an inspiring keynote by Brunswick Group partner, Ms Gabrielle Silver, which opened the first session on 'Generating Ideas'.
Throughout the session, participants gained exposure to several tangible examples of the benefits EIT Health UK-Ireland's network offers to its stakeholders. This constituted a wonderful occasion to hear the stories of successful projects that not only emerged from one of EIT Health UK-Ireland's partner initiatives, but that also received EIT Health funding. As part of the 2017 graduation ceremony of the Oxford BioDesign programme, Dr James Cantley shared his experience as both one of Oxford BioDesign's graduates in 2015, and as one of the winners of EIT Health UK-Ireland Headstart/Proof-of-Concept awards in 2016.
The second session dealt with funding ideas. The afternoon saw three insightful talks on Nurturing Innovation in the UK & Ireland by Innovate UK's Horizon 2020 NCP & Global Innovation Lead for Health and Wellbeing Jerome de Barros, Innovate UK's Knowledge Transfer Manager for Pharma and Medtech Gabriela Juarez Martinez and Enterprise Ireland's Senior Commercialisation Specialist Eimear Gleeson. Concurrently, Lightstone Ventures' Vice President Caroline Gaynor shared her insights about investing in Irish Health Ventures.
It was during this session that EIT Health UK-Ireland 2017 Headstart/Proof-of-Concept finalists had the chance to pitch their ideas to a panel of venture capitalists, angel investors, representatives from Innovate UK, consultants and academics. Their projects ranged from medical devices to reduce the risks of atrial fibrillation or stents to increase the safety of cardiovascular surgeries, to electronic glasses to enhance visually impaired patients' sight. 
Out of all the 22 start-ups that competed for the awards, seven were selected to receive a prize of EUR 50 000 in non-dilutive funding.
The winning projects
AuriGen Medical – the new standard in the treatment of atrial fibrillation
AuriGen Medical is developing the gold standard implant therapy for atrial fibrillation (AF). The AuriGen device is the first and only percutaneous implant which reduces the greatest risks associated with AF, namely arrhythmia, heart failure and stroke. Contact details: John Thompson, john.thompson@aurigenmedical.com Social media: Twitter @AuriGenMedical
Loci Orthopaedics Ltd. - An exciting new orthopaedic implant
Loci Orthopaedics has developed the "InDx" implant, an orthopaedic implant for the surgical treatment of thumb base joint arthritis. Working with three of the world's foremost surgical experts, the InDx implant is the first implant to fully accommodate the natural motions of the joint, providing an exciting new treatment alternative and optimal clinical outcomes. Contact details: Brendan Boland, brendan@lociorthopaedics.com
MoRoW - Motorised Rehabilitation Walker
A clinical robotic device, assisting stroke survivors by providing therapies in their early stages of recovery. A user-centred design for clinical deployment at scale, it helps patients re-learn standing-up and walking so they can leave hospital earlier and achieve better, more natural, mobility outcomes. Contact details: Jonathan Butters, jonathan.butters@morow.co.uk Social media: Twitter @SquireButters, @MorowMedical; Facebook MorowLimited
Oxford Heart Beat - Precise Stenting
We make cardiovascular surgeries more accurate and safe by helping clinicians accurately plan and rehearse stent placements inside blood vessels. Using predictive computations and AI, we accurately predict behaviour of devices inside each patient's anatomy. Contact details: Katerina Spranger, katerina@oxfordheartbeat.com; Liya Asner, liya@oxfordheartbeat.com Social media: www.oxfordheartbeat.com
Ostoform
60% of all ileostomy patients suffer from peristomal skin complications that can drastically affect their quality of life. Ostoform has developed a medical device that manages and effectively reduces these skin complications, resulting in improved skin health and increased user confidence. Contact details: Kevin Kelleher PhD, MSc, BEng, CEO kevin.kelleher@ostoform.com Social media: Twitter @ostoform
SELIO Medical
Lung biopsy is the definitive method of diagnosis of lung cancer but 33% of patients suffer from a collapsed lung (a pneumothorax) leading to unnecessary patient morbidity and clinical intervention. SELIO adopts a revolutionary approach to prevent the pneumothorax occurring before the biopsy even takes place. Contact details: Colm McGarvey, mcgarvco@tcd.ie Social media: Twitter @SelioMedical
GiveVision - Vision Technologies Ltd
GiveVision is a pair of electronic glasses that enhances/maximises the remaining sight of the visually impaired user, in the same way that a hearing aid enhances remaining hearing. Contact details: Stan Karpenko, stan@givevision.co.uk Social media: www.givevision.net, Twitter @GiveVision_net
---
Catch up with the latest news from the EIT Community in the Newsroom.
Do you use social media? Follow us and get updates in your news feed.