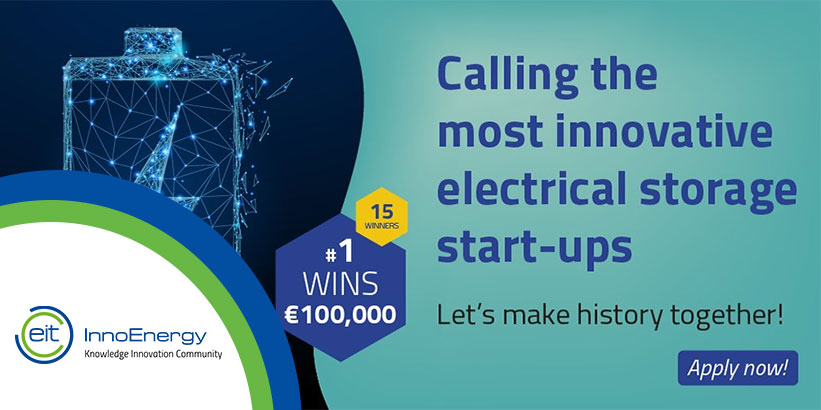 Application deadline is 15 November 2018
Got a brilliant innovation idea in the electrical storage area, and want to take it to market or scale-up? You could win EUR 100 000 as well as investment and business support to grow your business from the world's biggest sustainable player backed by a trusted ecosystem offered bt EIT InnoEnergy.
Your idea should have applications in any of the following areas:
1) e-Mobility and transportation
Covering all transport modes – roads, waterborne transport, aeronautics and rail transport
2) Energy storage systems
For the grid and at home, distributed storage as well as large scale storage. The integration and utilization of mobile storage into solutions for supporting the grid.
3) General industry
Wherever industry is electrifying to boost energy efficiency and emissions reduction.
Significant growth in electrification drives need for global call
Demand for electrical storage is rapidly increasing. EIT InnoEnergy plays a pivotal role within the European Battery Alliance, together with 120 stakeholders in the battery ecosystem. It aims to create a competitive and sustainable battery cell manufacturing value chain in Europe.
That's why we want to find, reward and develop the best and most innovative ideas around electrical storage from across the globe.
Find out the full information on the Call for Electrical Storage Start-ups here.
---
Subscribe to the EIT Newsletter to get the best of the EIT Community's news in your inbox once each month.
Do you use social media? Follow us and get updates in your news feed.