EIT InnoEnergy micromobility portfolio companies ACTON and DUCKT join forces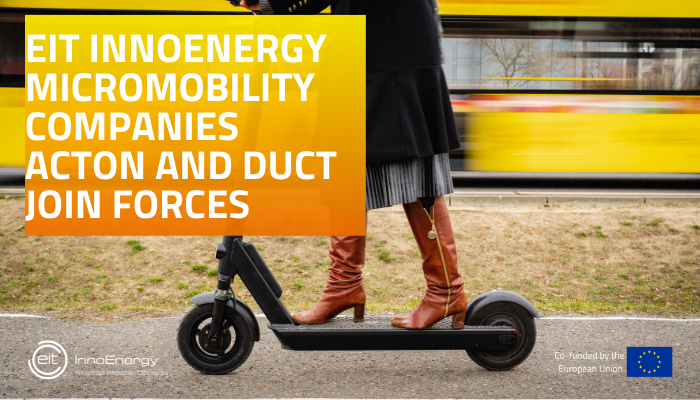 Micromobility-as-a-Service (MaaS) pioneer ACTON INC (ACTON) has acquired DUCKT, a leading European provider of docking and charging infrastructure solutions for electric micromobility vehicles.
By merging these with its best-in-class portfolio of electric vehicles and IoT software, ACTON can deliver a fully integrated turnkey offering that allows cities, companies and operators across the globe to deploy micromobility solutions seamlessly at mass-scale. Both ACTON and DUCKT are EIT InnoEnergy portfolio companies.
Making micromobility a centerpiece of urban transport
To make micromobility a centerpiece of a sustainable and intelligent urban transportation system, better organize public spaces and increase consumer safety, cities need the infrastructure to address the growing influx of new e-fleets on the streets. This includes precision vehicle tracking, connected networks for e-bike and e-scooter charging along with the necessary parking infrastructure.
"DUCKT has built a solution that solves one of the biggest challenges facing micromobility today  - building smart parking and charging networks. Combining our intelligent e-vehicle technology with their infrastructure in a single, connected platform puts us in a unique position in the market. ACTON can deliver its B2B and B2G customers a sustainable, turnkey MaaS solution that is unrivaled in terms of quality, flexibility and level of integration. Our growth opportunities are virtually limitless."

- Janelle Wang, CEO and Co-Founder of ACTON
Successful implementations in over 100 cities globally
"Becoming part of ACTON makes perfect sense from a strategic point of view, looking at the enormous synergies of our portfolios and our geographical reach. Moreover, this is the manifestation of a phenomenal relationship built with the ACTON team over the past several years with a number of joint landmark projects, such as the deployment in Manhattan, New York"

- Cagri Selcuklu, CEO and Co-Founder of DUCKT
ACTON and DUCKT have a track record of successful implementations in over 100 cities across the globe. This includes deployments of intelligent e-scooters and e-bikes along with connected docking (modular parking) and charging stations in marquee cities like Paris, Ankara, New York, and San Francisco with new projects coming up in Miami, Cape town, Mallorca, and other international locations.
Merger fueled by an investment from EIT InnoEnergy
The merger is fueled by an investment from EIT InnoEnergy, the World's leading innovation engine for sustainable energy that was recently recognized by Pitchbook as #1 early-stage investor globally in the areas of "Energy Transition'' and "EV & Grid Technology''.
"The ACTON and DUCKT merger makes for a perfect growth story. Together, they really have it all – well-designed, high-quality vehicles, the software to manage operations cost-efficiently, broadly compatible charging and docking stations plus the experience and capacity for large scale roll-out. For any given city or corporate looking to plug an off-the-shelf micromobility solution into their transport offering, it does not get much better than this."

-  Jennifer Dungs, EIT InnoEnergy's Global Head of Mobility