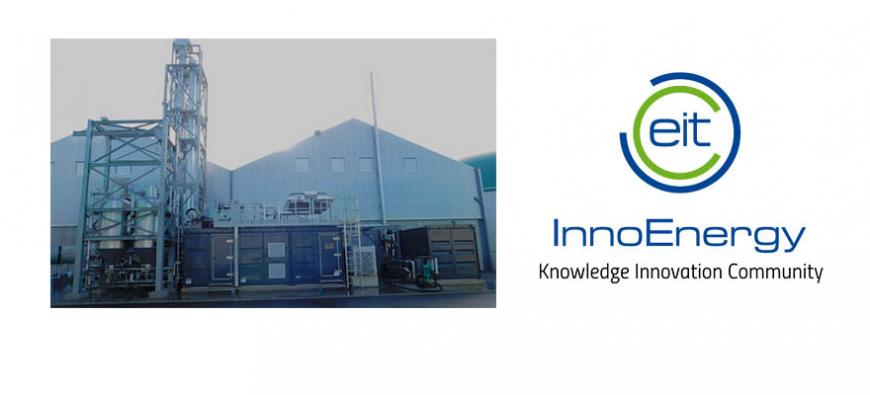 The Terragr'eau territorial methanisation site in Haute-Savoie was inaugurated on 12 September.
For the first time ever, IFP Energies Nouvelles (IFPEN) and Arol Energy demonstrated a new biogas purification technology called AE-Amine.
As part of a partnership between the Communauté de Communes du Pays d'Evian Vallée d'Abondance, local farmers and Société des Eaux d'Evian (Danone), Terragr'eau will transform 38 000 tonnes of agricultural waste and biowaste into natural fertiliser each year. Fermentation will produce 1.9 million cubic metres of biogas that has to be purified before it can be injected in the natural gas network.
An innovative, high-efficiency technology
The biogas purification unit was constructed as part of the BIOMET project. It was backed by ADEME and received financing from the Investissements d'avenir programme. It will use treated biogas to produce 110 Nm3/h of biomethane providing 8 000 MWh of energy each year, equal to the annual heating needs of 1 200 people. The plant has been injecting biomethane in the network since 14th March.
The AE-Amine technology uses two innovations:
Almost complete recovery of the heat generated by the amine scrubbing unit to heat the digesters using an advanced heat integration process patented by Arol Energy
A solvent developed by IFPEN that reduces the amine scrubbing process's overall energy consumption by 20 to 30%
Economic and environmental benefits
Initial results on the demonstrator confirm the exceptional performance of the AE-Amine technology, with the process now ready for deployment on an industrial scale: the improved productivity of the biomethane combined with an almost 50% decrease in energy consumption improves the overall operating result by 15 to 20% on the planned unit sizes. It also reduces the carbon footprint of purification by 70%, and that of methanisation and biomethane production site by 25 to 40% compared to alternative technologies. AE-Amine is also resistant to biogas pollutants, so it can also produce biomethane and bioCO2 of high purity (over 99.9%), increasing reclamation opportunities and the environmental benefits of biomethane.
One objective of France's 2015 energy transition law for green growth is to inject 10% of green gas in networks, representing 60 times more than at 31 March 2017. This will make AE-Amine solution's competitiveness and performance attractive to medium-sized and large sites. Potential in Europe is also great with an expected six-fold increase in the amount of biogas transformed into biomethane by 2030.
About Arol Energy: Arol Energy was created in 2012 with the goal of offering innovative French technical solutions for the energy recovery of biogas in the form of biomethane for injection in the natural gas network or for use as a biofuel. The company's products and services are intended for local authorities and private players producing biogas from waste. The venture has been supported by InnoEnergy since its creation. For more information, visit www.arol-energy.com
About IFP Energies Nouvelles: IFP Energies Nouvelles (IFPEN) is a major research and training player operating in the areas of energy, transportation and the environment. In industrial research, technological innovation is its focus, with three strategic priorities: sustainable mobility, new energy sources and responsible hydrocarbons. For more information, visit www.ifpen.fr