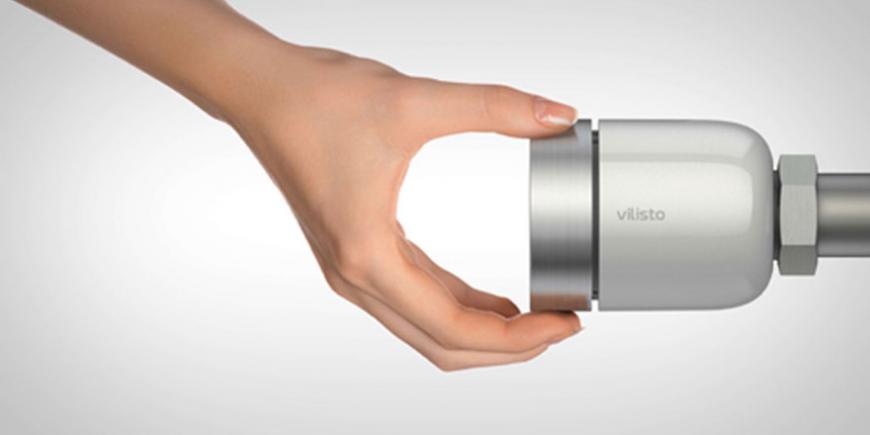 Fresh capital for climate protection: seven figure growth capital for self-learning heating technology.
Hamburg-based B2B start-up, vilisto, has recently closed a new seven figure investment round to foster business growth and support more customers in saving heat in office buildings. Among current and new investors from Hamburg are Christoph Birkel, technology park operator and office property lessor in the south of Hamburg, managing director of hit-Technopark GmbH & Co. KG, as well as specialists for the development and production of embedded systems, automation control and HMI components, Manfred Garz and Matthias Fricke, Managing Directors of Garz & Fricke GmbH. Long-term supporter, EIT InnoEnergy, increased its investment for the fourth time in a row.
After another successful winter, vilisto convinced not only well-known companies and DAX corporations, but also public sector clients, with its self-learning radiator control system. In addition, ENTEGA AG was won as a sales partner for the Southern Hesse region. This success is also reflected in public awards such as 'Energy Transition Newcomer' from the German Renewable Energies Association or the 'DENEFF Perpetuum Energy Efficiency Award'. Vilisto clients have also won prizes with the use of this advanced technology, for example, the municipality of Henstedt-Ulzburg at the 'Energy Olympics Schleswig Holstein' 2019.
The support of further investors is exactly what we need to drive our growth. When selecting the investors, we placed particular emphasis on 'Smart Capital' and we are quite satisfied with our selection.

Christoph Berger, founder and CEO of vilisto.
With the fresh capital vilisto will continue to expand its team and production capacity to meet the growing demand. The start-up is looking for developers, service technicians, sales representatives, marketers and other personnel with a 'climate protection gene'.
The next projects are ready to start and range from solutions for municipal customers to the equipment of the entire co-working space of a provider from Hamburg.

Christian Brase, Founder and Sales Manager of vilisto
EIT InnoEnergy supported vilisto GmbH
Vilisto saves companies and municipalities up to 40 percent of heating energy without any effort for the customers by using fully automated radiator thermostats. The digital heat management solution is based on thermostats with integrated presence detection, learning algorithms and room climate sensors. While the thermostats controlling room temperatures are fully automated and demand-based, the connected web portal allows for the central and efficient management of the property portfolio.
Vilisto GmbH was founded in 2016 and is based in Hamburg. Investors include private investors and EIT InnoEnergy.
Over the past few months the team has once again demonstrated that it can master even difficult challenges to build a successful business and we are excited to take the next step with vilisto.

Timo Lassak, Business Creation Manager at EIT InnoEnergy