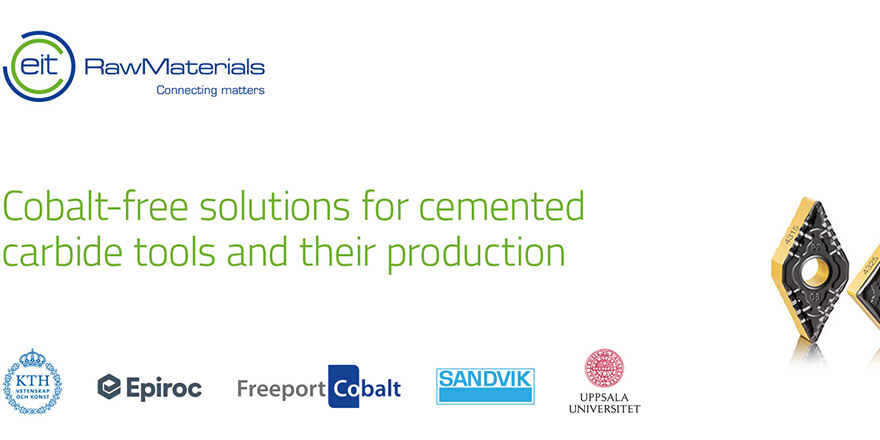 EIT RawMaterials funded project COFREE has boosted R&D forces of partners to develop cobalt-free mining and manufacturing tools
Mining and manufacturing tools are developed in industry labs using sophisticated R&D competencies, including rigorous tool testing methodologies. This has led to the production of tools, made from cement carbides, which have had an increasingly high resistance to wear. The increasing wear resistance has contributed significantly to the productivity improvements in the manufacturing and mining industries. However, the cemented carbide tools that are vital for mining and manufacturing productivity contain cobalt, which is likely to be reclassified as a health hazard. Furthermore, most of the world's cobalt is mined in the Democratic Republic of the Congo and the demand for this metal is increasing as cobalt is needed in the production of lithium-ion batteries. Therefore, the increasing demand creates an issue for ensuring a sustainable supply of cobalt.
Two Swedish competitors, Epiroc and Sandvik Coromant, decided to join forces with Swedish universities to find a substitute for cobalt as a binder in cemented carbides. Using advanced quantum mechanics modelling, researchers at KTH and Uppsala University were able to design an iron-nickel alloy that has the same binding properties as cobalt. Using this iron-nickel alloy, batches of cobalt-free tools were produced and the TRL5 performance of these tools looked promising.
To upscale their solution with the EIT RawMaterials funded innovation project COFREE, these four partners were joined by the Freeport, a Finnish company that currently refine and supply cobalt particles to the tooling and other industries.
The COFREE innovation project's (started in 2016 and to date) core achievements include:
Epiroc is now able to produce cemented carbide mining tools, which are cobalt-free, using existing plant and machinery.
Freeport has devised a full-scale process for producing small iron-nickel particles and supplying these on a commercial basis to producers of cemented carbide products.
KTH devised a new non-destructive quality control system, which is based on accurate models the magnetic behaviours of atoms in materials. The project's tooling industry partners now use this quality control system is now in their R&D and production departments. The fact that production quality control information can be directly correlated with lab information means that R&D departments can more effectively troubleshoot and support production. This solution is currently solving issues when producing cobalt tools as well as in the upscaling COFREE.
Sandvik Coromant is now able to produce cemented carbide machining tools, which are cobalt-free, using existing plant and machinery.
Uppsala University devised a new mining tool testing system and method, which industry now uses for both cobalt and COFREE tool testing. This new testing approach means that more tool testing can be done in the lab; and, there is less need for dangerous, costly and time-consuming tool testing in mines.
Epiroc and Sandvik Coromant are currently working independently to refine their own recipes and processes for producing cobalt-free cemented carbide tools. These two competitors are also independently assessing how and when to include cobalt free products into their respective product portfolios.
The COFREE innovation project was vital to Epiroc and Sandvik Coromant contributing to the immediate R&D boost as well as the capacity for producing cobalt-free tools. This, together with Freeport capability to supply the iron-nickel alloy substitute, means that the European mining, manufacturing and tooling industries have the contingency in place and the supply of cemented carbide tools is secure in the era of raw materials supply uncertainty.
Socioeconomic and environmental impact of the COFREE project
In mining production, the drilling is mainly performed by means of robotic, multi-armed jumbos designed to reduce human presence in the mining tunnels. However, when new drilling materials are developed, it is necessary as a first test step to perform the drilling semi-manually with human interaction at the drilling site in the tunnel. The COFREE project invention will significantly reduce the amount of on-site manual presence in the material development process, improving safety and general work conditions. Additionally, this efficient method reduces later test time in the big underground jumbos, where only small verification tests are then necessary, leading to the reduction of CO2emissions.
This project achievement enables significantly faster development of cobalt substitution materials for the mining industry, making the cemented carbide industry less dependent on cobalt metal that is mainly foreign to the EU. Hence, achievement is reducing the need for raw materials that are scarce in Europe.
Integration of partners from business, research and higher education in the COFREE project
The researchers at Uppsala University and Sandvik have contributed to their respective expertise and experience in the process, and a series of engineering students were dedicated to the time-consuming and comprehensive lab work required. Three students have participated through a series of MSc graduate projects focusing on the test rig design, development of test procedures, verification studies, and a first series of benchmarking and material ranking tests.
The members of the COFREE innovation project consortium are:
KTH Royal Institute of Technology, Sweden (Lead Partner)
Atlas Copco Rock Drills AB, Sweden
Atlas Copco Secoroc AB, Sweden
Freeport Cobalt Oy, Finland
Sandvik AB, Sweden
Sandvik Coromant AB, Sweden
Sandvik Machining Solutions AB, Sweden
Uppsala University, Sweden
---
Subscribe to the EIT Newsletter to get the best of the EIT Community's news in your inbox once each month.