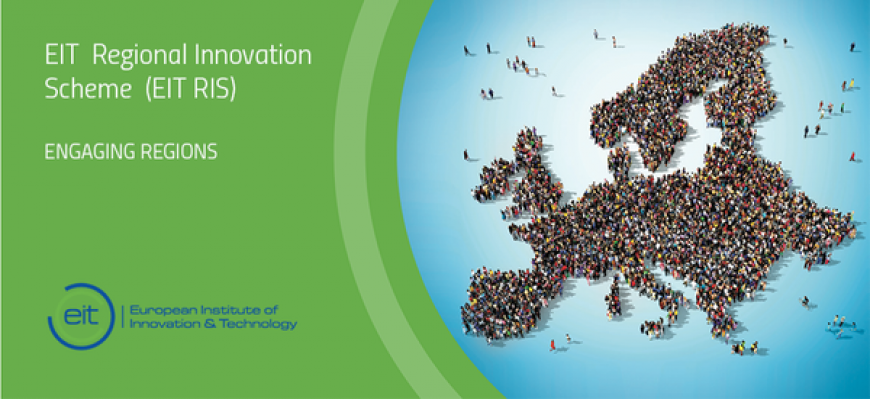 Read about how we powered innovation across Europe in 2018 through our Regional Innovation Scheme
The EIT Regional Innovation Scheme is a tool to engage with a broader range of stakeholders. The EIT recently published a new Regional Innovation Scheme Report that outlines the main on-the-ground activities and highlights success stories of start-ups and innovators in parts of Central, Eastern and Southern Europe.
EIT Regional Innovation Scheme – bridging the countries
European countries are divided because of disparities in innovation performance. This has resulted in the classification of European countries in two main groups—innovation leaders and strong innovators versus moderate and modest innovators. One reason for lower innovation performance is weak linkages among the key players—businesses and research institutions and academia, as well as between the private and public sectors, including a systematic approach towards innovation.
The objective of the EIT RIS is to widen participation in the EIT Innovation Communities' activities by engaging players from countries that have lower participation in EIT Innovation Communities. The EIT RIS is designed for EU Member States and Horizon 2020 Associated Countries in Europe who are modest and moderate innovators, and where Innovation Communities have few or no partners.
EIT Hubs – strong footing in local innovation ecosystems
EIT Innovation Communities engage local organisations to serve as EIT Hubs in EIT RIS countries and regions. Local organisations are selected through an open competitive selection process, and are designated to function as an EIT Hub for a specific Innovation Community. The primary role of an EIT Hub is to ensure the visibility of the EIT Community and raise awareness of EIT Community activities and cooperation opportunities for local players representing education, business and research areas.
Why engage with an EIT Hub?
EIT Hubs help to identify additional funding and project opportunities and provide advice to project / initiative / programme development and implementation, where necessary. This is done with a view to facilitating EIT model adaptation to the local environment.
How does the EIT contribute to the innovation capacity of EIT RIS countries?
By doing what the EIT knows best—integrating the activities of business, research and education. The EIT creates a seamless chain of services for an idea to grow into a product, conquer the market and create positive socioeconomic change. As a result of a more visible and active presence of the EIT Community in EIT RIS countries, in 2018, all EIT Innovation Communities welcomed new 42 organisations from the EIT RIS countries.
Funding
In 2018, EIT innovation Communities invested EUR 15 million of the EIT grant in their EIT RIS activities and programmes. The EIT started allocating dedicated funding for EIT RIS activities as of 2016, and since then EUR 33 million has been invested. In addition to the EIT RIS funding, the EIT is, on average, investing around 10% of its grant in the EIT RIS countries.
Future outlook
Looking into the future, the EIT in the post2020 period will take a stronger "place-based" approach by building on the EIT Hubs and their networks and seeking synergies with policies and funding programmes of EIT RIS countries.
The EIT will continue to support the innovation ecosystems of countries and regions that underperform in terms of innovation by promoting closer interactions among the local innovation actors (clusters, networks, national and regional authorities, Higher Education Institutions, research organisations, vocational education and training institutions).
Ultimately, by interconnecting networks and innovation ecosystems across Europe, the EIT will be able to enhance the European innovation output through combined efforts, knowledge, talent and other intellectual assets.