EIT Urban Mobility to share its vision at New Mobility Congress 2023 in Lodz, Poland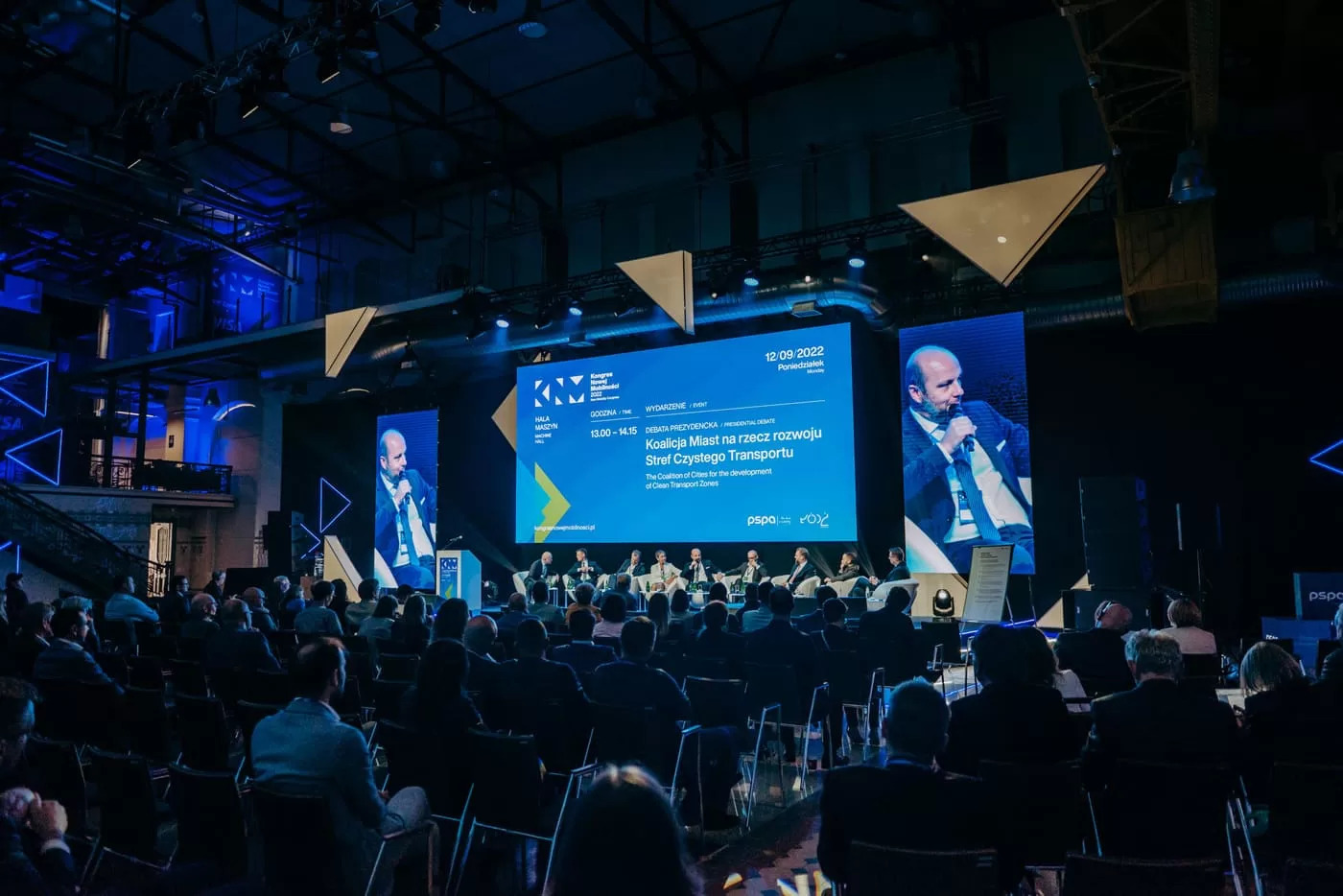 EIT Urban Mobility will host a booth and take part in high-level panels where European leaders will discuss how to accelerate multimodality and zero emission transport in cities.
The New Mobility Congress 2023 (or KNM 2023), the fourth edition of the largest conference in Poland and Central-Eastern Europe, will take place 26-28 September at the EXPO Lodz space. More than 400 speakers, 250 events, and 1 500 participants are expected.  
Among those speakers will be EIT Urban Mobility's very own CEO, Maria Tsavachidis, who will speak at the high-level panel on 27 September from 10:00 to 11:15 on Green Cities. EIT Urban Mobility's Director of Innovation, Gareth Macnaughton, will also speak on a high-level panel 28 September called Green hydrogen – the only hydrogen! A hydrogen economy must be green – how to get there?   This will coincide with the launch of EIT Urban Mobility's launch of its expert group on hydrogen and mobility. 
Gauging the potential of new modes of transportation
More than 100 000 electric scooters already roam the streets of Polish cities. Bicycle rentals are also part of the micromobility development in Poland. By-the-minute rental systems are already in place in about 80 cities, encouraging residents and tourists to use this ecological, cheap and healthy form of transportation. In addition, electric scooters or small electric cars, which are ideal for commuting, are available on the Polish market as part of carsharing platforms. As of the end of March 2023, almost 90 000 vehicles were registered in the Polish shared mobility market – in the self-service category. These figures include both two-wheelers and cars, which can be rented via mobile apps or directly from vehicle owners. E-bikes and other forms of zero-emission micromobility are also gaining in popularity across the country and the European Union. 
The New Mobility Congress 2023 will take a closer look at their prospects for further development of this sector, including new business models, how the law might accommodate the sector, and what could be considered international best practices. EIT Urban Mobility will give participants a view of how EU cities pursue new models of transport and decarbonisation.
Micromobility – a natural component of multimodality and innovative urban transport 
This is a foundation for the development of low emission zones in Poland as the reduction of vehicles is a necessary step in the decarbonisation of cities and urban zones. More and more cities in Central Europe also invest in electric buses and hydrogen buses and EIT Urban Mobility will be part of demonstrating why this is important as last-mile solutions remain dependent on a robust system of buses and rail transport. 
Poland recorded a year-to-year increase in micromobility by 44% but our capital also boasts one of the largest EU e-bus fleets and multiple urban areas are also looking into FCEV public transport solutions. So city transport is becoming greener and more innovative every month. We are proud that the New Mobility Congress will be able to explore these topics with the support of our esteemed partners from EIT Urban Mobility which is really the EU beacon to innovate city transport solutions.

Aleksander Rajch, PSPA board member
KNM2023: a leading event in the world of transportation 
KNM is the largest e-mobility and zero emission transport sector event in Central & Eastern Europe which will bring together industry leaders, researchers, government and administration representatives and all those interested in the future of mobility. KNM 2023 will present a "Strategy for the New Mobility Development", diagnosing eight key challenges and containing a total of 15 recommendations for action, the introduction of which will allow the development of new forms of mobility in Polish local governments. The "National Bicycle Strategy" project will also be launched. In addition, leading stakeholders and industry representatives will discuss the necessary regulatory changes to stimulate the development of the micromobility sector in Poland, as well as best practices in this area implemented in European cities. PSPA is proud that all those topics and other significant city transport issues will be addressed with the support of EIT Urban Mobility.  
The upcoming Congress provides an invaluable opportunity to foster collaboration, inspire innovation and pave the way for a sustainable and inclusive transportation ecosystem. I'm excited to meet other experts, share insights and ideas on how to collectively drive the transformation towards smarter, greener and more connected mobility solutions.

Maria Tsavachidis, CEO of EIT Urban Mobility. 
This year's KNM will also feature the region's largest exhibition of zero-emission technologies in transportation, aimed at suppliers and clients of e-mobility solutions from across Europe. The expo will accompany the entire congress with organisers aiming for more than 100 exhibitors from the region and 2 000 visitors. The formula will enable numerous premieres, demonstrations, tests, and networking. 
The programme of the New Mobility Congress will be based on six strategic thematic paths: 
CEE GTI Summit – a summit of sustainable transportation leaders in the CEE region; 

Poland Drives e-Mobility – a platform for cooperation of key stakeholders of the electromobility market in Poland; 

Battery Day – EBA Summit – a conference of manufacturers and experts in battery technology for the automotive industry; 

Green Fleet Forum – ESG – a forum for the fleet industry, companies most involved in the implementation of electric drives; 

eHDV Forum – a forum of HDV market participants dedicated to the development of the zero-emission heavy transport sector; 

Hydrogen Mobility Forum – a forum of key stakeholders in the commercial uptake of hydrogen technologies in transportation.