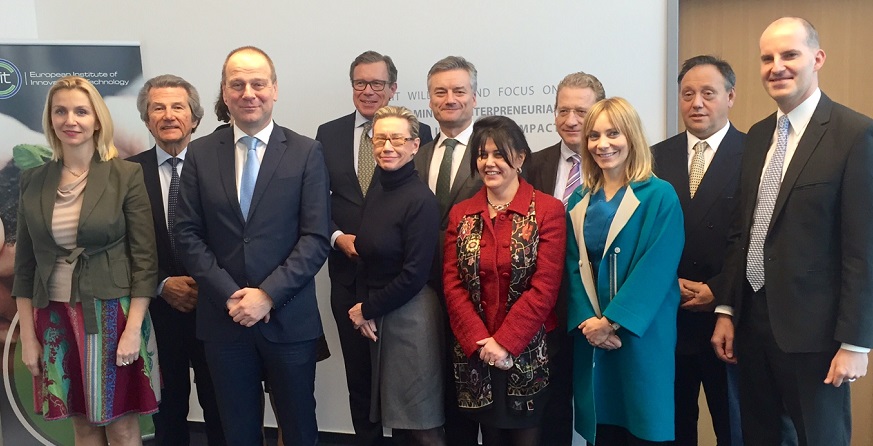 Today, Commissioner for Education, Culture, Youth and Sport, Tibor Navracsics, joined the EIT Governing Board at the EIT Headquarters in Budapest to discuss ways to take the EIT's work forward and make it even more effective.
One point of discussion were the findings of the High Level Group of experts set up by the Commissioner to review the EIT's workings. Commenting on the Group's report, Commissioner Navracsics said: 'This report confirms the unique role that the EIT plays in promoting innovation, education and entrepreneurship. The EIT is an EU initiative unlike any other with its mission to tackle some of the most important challenges facing Europe today, like an ageing population, food security, clean energy and climate action. The High Level Group has delivered a set of far-reaching recommendations that, once implemented, will help the EIT play this role even more effectively.'
'The EIT Governing Board welcomes the insights provided by Commissioner Navracsics' High Level Group,' said Bruno Revellin Falcoz, Vice-Chairman of the EIT Governing Board. 'The report's recommendations are particularly valuable and timely in terms of input into the EIT's future Strategic Innovation Agenda (SIA) for 2021 to 2027. This is crucial to help us enhance the EIT's impact and support to innovators and entrepreneurs across Europe.'
The High Level Group's recommendations address a range of topics: how the EIT's contribution to the future EU innovation landscape can be sharpened; how the EIT can create and grow innovations more effectively; how to involve business (including SMEs) more strongly in the Knowledge and Innovation Communities (KICs) the EIT has set up; how to ensure the EIT's educational programmes have a bigger impact and a stronger role for the EIT Governing Board in setting the future strategy for the EIT and its KICs. The EIT is an independent EU body set up in 2008. Its mission is to enhance Europe's ability to innovate by nurturing entrepreneurial talent and supporting new ideas.
Original Press Release: http://europa.eu/rapid/midday-express.htm
---
Catch up with the latest news from the EIT Community in the Newsroom.
Subscribe to the EIT Newsletter to get the best of the EIT Community's news in your inbox once each month.