Innovation Community Business Planning Bootcamps in Tartu and Budapest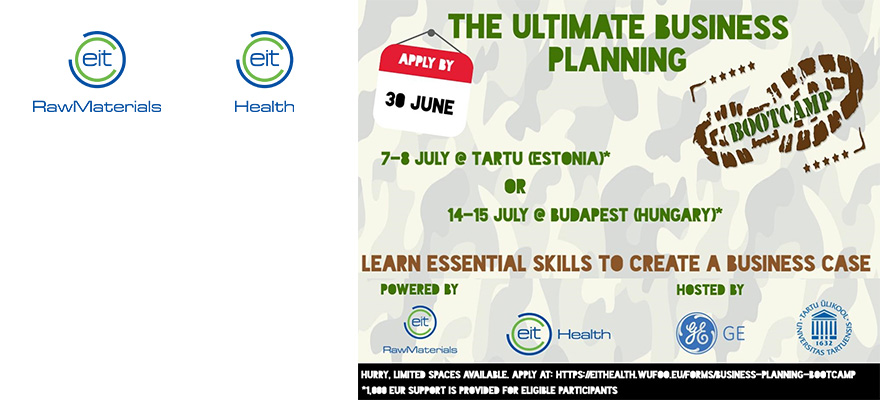 Entrepreneur with a strong business idea but no business plan yet?
Get engaged with Europe's largest thematic innovation networks and learn how to develop and improve your business plan.
EIT Health and EIT Raw Materials have jointly organised a Business Planning Bootcamp in Tartu (Estonia) and Budapest (Hungary), to improve cross-sectoral innovation performance in EIT RIS countries. The two-day training sessions will provide a unique cross-industry environment; the primary focus is on quantitative business model building. You can also learn how to get started on building a business: how to build a team, business processes, organisational design.
The participants will be selected based on the strength of the entrepreneurial idea they possess, their impact on the sector and their growth potential from the Health and Raw Materials sectors. EUR 1,000 scholarship will be paid after the successful completion of the Bootcamp.
Locations:
Tartu, Estonia – 7-8 July 2017
Budapest, Hungary – 14-15 July 2017
Applications are open by 30 June 2017. For registration, please visit the following website: https://eithealth.wufoo.eu/forms/business-planning-bootcamp/ 
---
Catch up with the latest news from the EIT Community in the Newsroom.
Subscribe to the EIT Newsletter to get the best of the EIT Community's news in your inbox once each month.
Do you use social media? Follow us and get updates in your news feed.