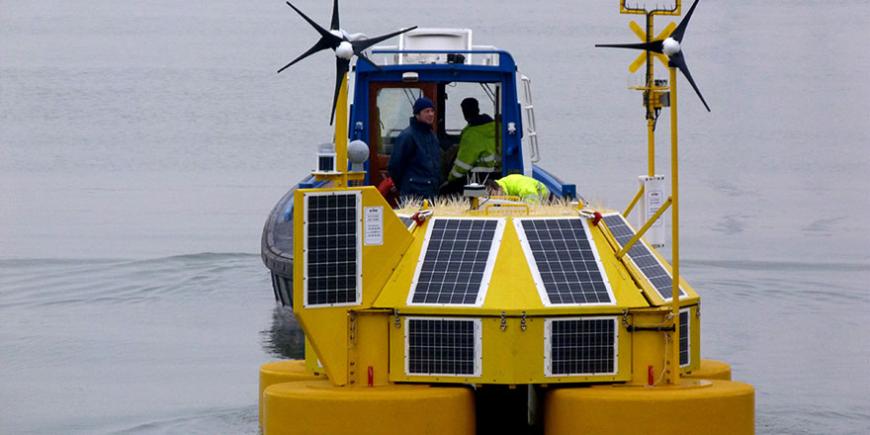 EOLOS, a start-up supported by EIT InnoEnergy, completed a significant capital injection by the entity of the Swiss investment company Prorsum AG.
The funding provides a step increase in solidity both towards clients and the entire supply chain. EIT InnoEnergy provided start-up funding for EOLOS in 2014 and continues to support the company.
In summer 2017, EOLOS relocated to larger, dedicated facilities just outside of Barcelona, and now incorporates 17 full-time employees, with senior management members coming from the offshore wind industry including General Electric, Alstom and Ecofys. Over the past months, EOLOS has secured new projects in USA, Ireland and South Korea, with a track-record achieved with developers such as NYSERDA, EDPR and Iberdrola. Continued investment is expected following the trends of the offshore wind industry, with the longer-term market tending towards floating offshore wind with deep water sites, making an even stronger case of site-specific floating LiDAR campaigns.
A significant closing for EOLOS, allowing the present team the flexibility and capability to both grow and expand globally in the market of turn-key offshore wind data measurement campaigns, not only by strengthening our financial position, but also through the extensive network within the energy sector that Prorsum can provide. [...] The rapid growth of the wind industry markets in Europe, North America and Asia is a great growth opportunity for EOLOS. The capital increase will allow EOLOS to better serve their clients with a trend towards multi buoy projects and to expand their global footprint.

Rajai Aghabi, CEO and founder EOLOS
The growth and development of EOLOS have been a reference case within our renewable energy portfolio, confirming the effectiveness of our participation in the company and our nurturing of the team during their early years. I am very proud of the EOLOS team having achieved this step, consistent with the projections they set and committed themselves to.

Diego Pavia, CEO EIT InnoEnergy
We are excited to become the largest shareholder of EOLOS following the capital increase. Rajai and his team have made EOLOS over the past years one of the market leaders in the turn key floating LiDAR segment, and attract some of the biggest utilities active in the offshore wind industry as their clients. Due to the acceleration of the development time of offshore wind, EOLOS can provide a valuable impact on SDG 7.

Otto von Troschke, CEO and founder Prorsum
Offshore wind farms play a central role in the large-scale adoption of renewable energy. Reducing their development time is a key challenge to accelerate their growth. EOLOS provides reliable and cost-effective wind measurements by using floating LiDAR instead of a traditional wind mast that requires lengthy permitting phases. With this differentiating technology, EOLOS significantly contributes to reducing the development time of an offshore wind farm without compromising the quality of the data provided.

Jeroen van der Veer, board member of Prorsum, former CEO of Royal Dutch Shell