Meet the EIT Food Accelerator winners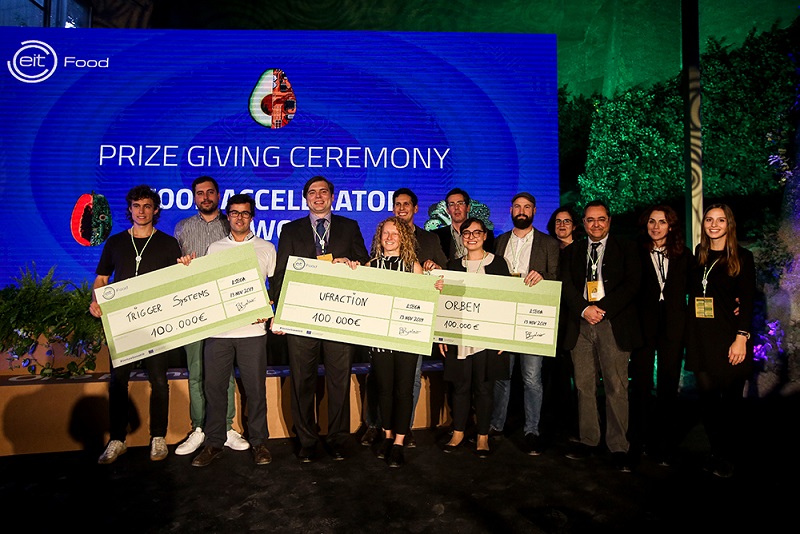 The finalists were invited to compete for three awards, consisting of financial support worth EUR 100 000 each. The winners were announced at the EIT Food Venture Summit on 13 November 2019, at Estufia Fria in Lisbon.
Winners announced
Orbem AI, based in Germany, has developed a patented Al technology for the poultry industry to revolutionise the way we produce food. uFraction8, from the UK, helps biomanufacturers to de-water and concentrate biomass using the latest technology to build sustainable and scalable systems. Trigger Systems is a Portugal-based company that provides a web platform to control several systems for the automatic and efficient management of water and energy.
Get to know 2019 EIT Woman Award winner: Rigger - Trigger Systems
The twelve finalists were selected from a group of 52 agrifood technology start-ups involved in the 2019 EIT Food Accelerator Network (EIT FAN) Programme. Over a four-month acceleration period, these start-ups have had access to tools, connections, mentors and expertise to help them succeed.
Held in Switzerland, Germany and Israel, the EIT FAN aims to make Europe the go-to innovation hub for the world's most promising agrifood start-ups.
Many congratulations to our winners from our EIT Food Accelerator Network Programme. The ideas of these start-ups are helping to tackle global food challenges and address the gap between innovation and the realisation of genuine business opportunities. It has been a pleasure collaborating with the 52 agrifood start-ups over the last months and seeing first-hand the disruptive ideas they are working on.

Benoit Buntinx, Director of Business Creation for EIT Food
The winners of the 2019 EIT Food Accelerator Network Programme received their awards at The Venture Summit in Lisbon, EIT Food's annual event that brings together Europe's best agrifood start-ups, investors and key figures from across the agrifood system.