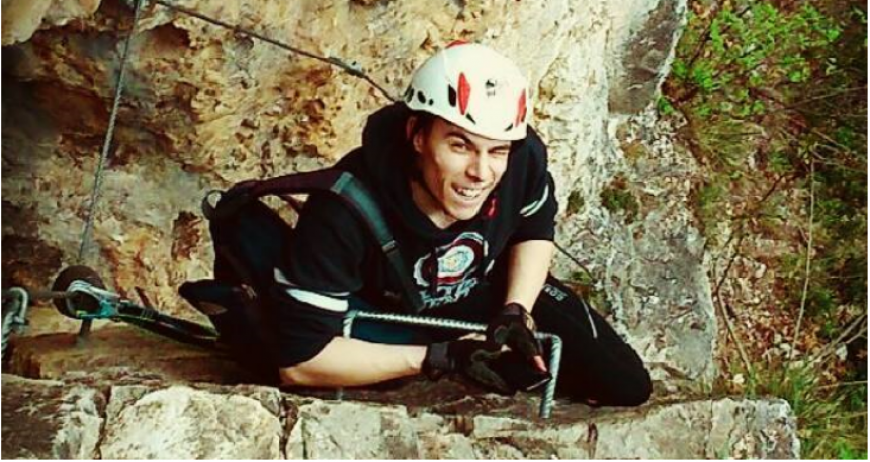 'I want to use my engineering skills to fight climate change,' says the EIT InnoEnergy Master School student, Emiliano Degasperi.
Driven by the desire to leave home and begin an international adventure (in both living and learning), Emiliano Degasperi was drawn to the EIT InnoEnergy Master's School. Not only did it offer a more hands-on approach, practical education – but also valuable skills in teamwork that, Emiliano realises, plays an integral part in the energy transition. His love of learning and meeting new people fuels his dream to use his engineering skills to fight climate change.
Why are you interested in sustainable energy?
I am truly convinced that we are living in a crucial period, in which we can develop more sustainable technologies to live in a not-so-polluted world. When I applied for EIT InnoEnergy, the main purpose I had in my mind was to mix something that I like (engineering) with something useful for our world (fighting climate change).
What part do you plan to play in the energy transition?
I honestly don't know what I am going to do in the future. One thing that I am sure about is that I want to contribute to the implementation of more sustainable types of energy production, perhaps by working in a renewable power plant or creating a start-up that is wholly focused on sustainability.
What attracted you to the EIT InnoEnergy Master school programme?
During my bachelor's, I realised that I wasn't studying what I really wanted to. Industrial Engineering is undoubtedly an interesting subject, but I wanted to study something energy-related. And while the education system in Italy is quite good, our universities focus too much on theory, lacking in the practical part – so I was drawn to the more hands-on approach of the EIT InnoEnergy programme. I also wanted to move from my home country, to visit new places and meet different people. I believe that travelling and being exposed to diversity is an essential part of our personal development.

Emiliano Degasperi, EIT InnoEnergy Master School student
Tell us your favourite parts of the curriculum – and what sets the EIT InnoEnergy Master School apart, in your opinion?
EIT InnoEnergy has many exciting features starting with the fact that it provides a double degree, which is much more useful in a working environment. Secondly, I really like the extra activities each course offers. In my case, the MSc Energy Technologies programme offers 'Open Space Studio' sessions, named winter and summer ateliers. During these workshops we focus on three main themes: personal development, social skills development and co-creation, where we work directly with our colleagues and industry experts to develop new solutions for real-world challenges. I think that these activities are especially useful for engineers on top of our technical studies because it provides a perfect balance between the scientific and the 'non-scientific' world.
Have you won any awards during or related to the programme?
I participated in a competition called LBEC (Lisbon BEST Engineering Competition, in collaboration with EIT InnoEnergy) that focuses on sustainability. Our team had to find a renewable solution to supply energy to a research station on the South Pole. We had to consider all the environmental features that the area offers and also connect a fictional region of consumers with energy producers, installing grids throughout the area. Our group won first place!
In what way do you believe your time at the EIT InnoEnergy Master School will contribute to your professional career?
I personally prefer working by myself, because I am able to keep everything under control and am well aware of my own strengths, weaknesses and limitations. However, I also know that nowadays all major work gets done mainly in groups. Therefore, having a lot of group projects during the programme is a useful aspect for me to develop better teamwork abilities. I realise that we can't make the energy transition alone… it's going to take a group effort!