Meet the winners of EIT Food's Affordable Nutrition Scale-Up Challenge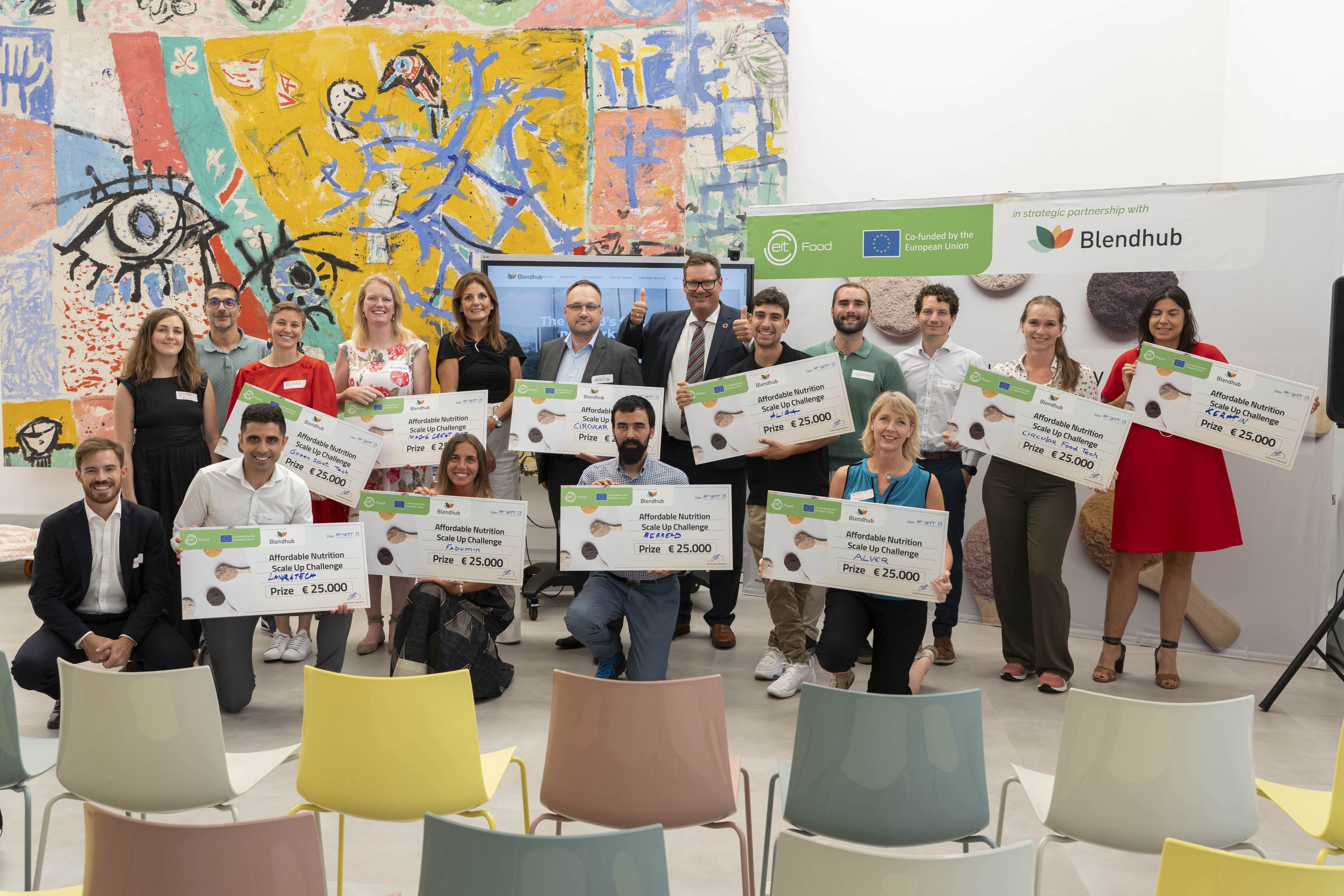 EIT Food and Blendhub have announced the winners of their Affordable Nutrition Scale-Up Challenge, which invited start-ups and scale-ups to submit innovations that improve access to nutritious and sustainable food. 
The ten winning startups have each developed a powder-based ingredient or formula that supports the promotion of healthy and sustainable diets. Each will now receive services from EIT Food and Blendhub worth EUR 25 000 to help scale and launch their powder-based product.
The winning startups are:
Aliga Microalgae (Denmark), which is applying white Chlorella algae powder as an ingredient in health and nutrition beverage formulations
Alver World SA (Netherlands), which has developed algae milk from Diamond Chlorella
Circular Fiber (Italy), which is producing sustainable flour from artichoke processing waste
Circular Food Technology (Denmark), which is developing functional flour from upcycled spent grains
Fabumin (Israel), which is innovating with aquafaba to produce a powdered ingredient
Green Spot Technologies (France), which has developed the Ferment'Up range of multifunctional ingredients
Keratin España (Spain), which has developed protein powder from livestock blood
Landratech Lda (Portugal), which is unleashing the health benefits of the acorn through AcornXtract
MaGie Creations (Netherlands), which is upcycling beer grain into nutritious, sustainable ingredients
Rebread Upcycled Food Sp (Poland), which is producing upcycled Koji Powder as a functional and sustainable ingredient
All ten winners will receive their awards at Blendhub's offices in Murcia on 11 September. 
 
"The challenge is not just an opportunity to accelerate innovation in the nutrition space, but also a pathway to improve food systems through cutting-edge innovations. It's crucial that entrepreneurs are equipped with the tools they need to prioritise sustainability, accessibility, and diversification in nutrition solutions.

"We are thrilled to be collaborating with Blendhub to award funding and support to such an innovative and promising cohort of startups. We were profoundly impressed by the high quality of applications and the commitment to affordable nutrition. We eagerly look forward to working with the ten winning startups to help them realize the full potential of their trailblazing innovations."

- Dr Adam M. Adamek, Director of Innovation at EIT Food
"With Green Spot starting commercialisation, this funding and support is coming at the perfect time.

"Being selected as a winner confirms the need for ingredients that bring nutrition, functionality and sustainability, at affordable prices, and this is exactly what Ferment'Up Ingredients by Green Spot is about."

- Manon Ledoux, Chief Product Officer at Green Spot Technologies
"We hope that the development of our project will turn out so successful that the mix developed ends up being one that Blendhub can produce and market through its hubs!

"This award is confirmation that we are on the right path to success and gives our team a lot of energy to continue their hard work."
 

- Madeleine Gielens, Founder of MaGie Creations
For media and interview enquiries, please contact communication@eitfood.eu.   
About Blendhub
Blendhub aims to create more efficient and transparent supply chains by deploying a global network of multi-localized Food-as-a-Service hubs closer to raw materials and final consumers with the purpose of feeding all people in all places sustainably. Blendhub's Food-as-a-service model helps people and companies from idea to launch of healthy and affordable food products, adapted to local preferences and pricing anywhere in the world, and doing it faster, safer, and cheaper than ever before.