Rebel and EIT Urban Mobility start-up Vianova launch a new AI tool for CO2 emissions reduction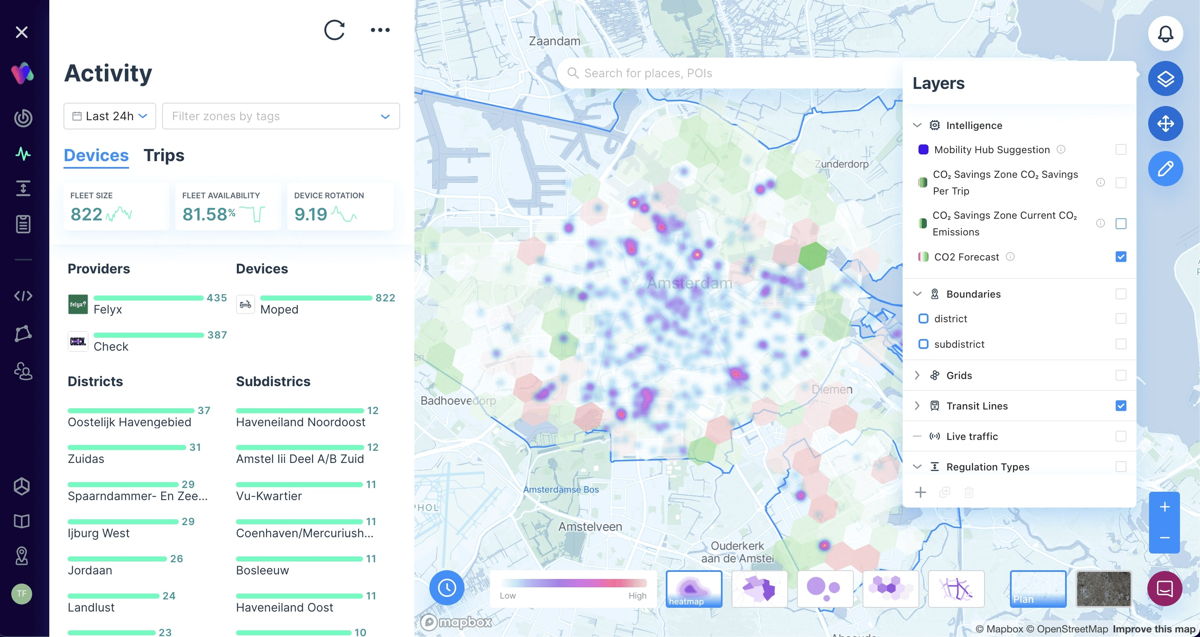 Paris based tech company Vianova just released an innovative tool to measure and reduce carbon emissions due to overall transportation in cities.
This tool, powered with advanced AI algorithms, is designed to help cities and mobility operators efficiently curb transport CO2 emissions by identifying areas where shared mobility can be deployed to maximise chances of mode shift from private cars.
The tool, Mobility Policy Auto-Tuner (MPAT), has been developed in collaboration with global transport consultancy Rebel Group, and is built on top of Vianova's platform in order to map carbon reduction potential across cities.
The feature represents a significant potential for urban planners in cities to incentivise mobility operators to deploy vehicles in the "right" areas – where it would lead to maximum net CO2 savings. With the MPAT feature they can:
identify those areas where regulations or infrastructure (such as mandatory device rebalancing, or a mobility hub) should be implemented in order to nudge citizens into greater shared mobility usage, shifting travel to light low-carbon travel modes
anticipate the "alternative carbon footprint" of a trip that would be taken by a shared transport mode
model the potential impact of the policy from a CO2 perspective over time
monitor whether the implemented policies truly achieve the predicted CO2 emissions reductions
recalibrate the AI algorithm to suggest better regulations given the tracked outcomes
Operating in more than 60 cities across the globe, Vianova was able to model potential carbon savings and forecast that the MPAT feature could help cities save up to 1 000 tons of CO2 per city yearly, representing more than 10% of the average total carbon footprint in these cities. This considerable potential would substantially participate in the global sustainability goals of reducing transport emissions by 30% by 2030 to stay below the +2 C° threshold according to the 2022 IPCC Global Report. 
Read more about how Vianova has grown in the last years with the support of EIT Urban Mobility in this article on Data for better urban planning.