The Spanish Group of Innovation Communities as the spearhead of innovation and entrepreneurship in Europe
The six Innovation Communities have participated in the Conference "Challenges of the Bioeconomy", an international congress organized by the Royal Academy of Engineering of Spain (RAI) on the occasion of the presidency of this organisation held during 2017 by the International Council of Academies of Engineering and Technological Sciences (CAETS).
This year, Spain has taken over the presidency of CAETS, an international non-governmental and independent organisation that brings together the world's most prestigious Academies of Engineering and Applied Sciences.
The Royal Academy of Spanish Engineering organised this annual meeting of CAETS, bringing together leading international experts to present and discuss the latest advances related to Bioeconomy and its challenges, such as food security, the solutions of new genetic engineering to ensure food for humanity in the coming decades, the use of marine and ocean resources in a manner respectful of the environment, the transition to renewable energies, and addressed the importance of the topics presented by the experts and that identify the main problems that humanity will face during the coming decades, as well as the reflections and solutions that engineering and technology can provide for a better world, the motto of this meeting.
Image
During the two days, cross-cutting lines related to ethics, diversity and equal opportunities in engineering have also been proposed, as well as emerging models for the promotion and management of innovation in multinational spheres.
Image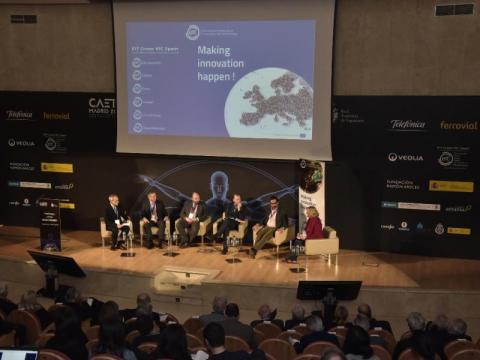 ---
Catch up with the latest news from the EIT Community in the Newsroom.
Subscribe to the EIT Newsletter to get the best of the EIT Community's news in your inbox once each month.
Do you use social media? Follow us and get updates in your news feed.
Do you use social media? Follow us and get updates in your news feed.