Sustainable Mobility Solutions and EIT InnoEnergy create new Battery Institute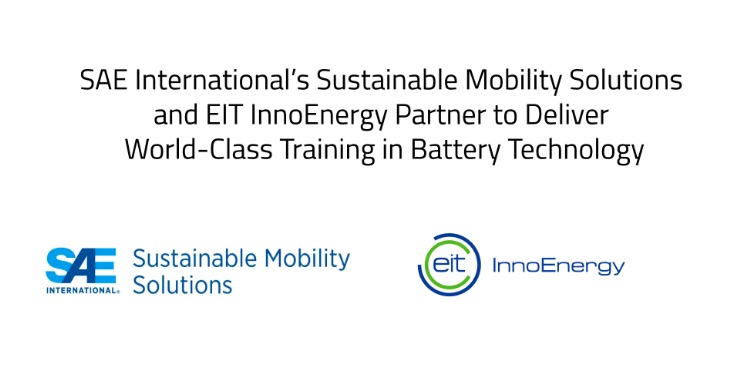 Sustainable Mobility Solutions, the innovation unit of SAE International, just announced its new partnership with EIT InnoEnergy to deliver a comprehensive training programme in battery technology.
The joint program titled "The SAE/InnoEnergy Battery Institute," adapted from the European Battery Alliance Academy (EBA Academy), consists of thirty-two courses and is one of the most complete learning resources for all things battery-related. The programme includes more than 400 hours of training and covers the entire battery lifecycle, including raw materials, cell manufacturing, battery packs, applications/integration, and recycling.
The centrality of battery technology to electric vehicle development is beyond question. The SAE/InnoEnergy Battery Institute consists of courses that provide essential and advanced understanding of every aspect of this field. It is a must for OEMs, suppliers, those who are entering the world of EVs, and those who want to retrain to participate in it.

Michael Paras, Manager of Product and Business Development and Strategic Partnerships in Sustainable Mobility Solutions
The programme was developed by EIT InnoEnergy, a global investor in climate-tech, in cooperation with some of the world's leading businesses and technical institutions.
The Academy is the product of several years' collaboration with thought leaders to construct one of the broadest and deepest learning resources in the batteries field. We are delighted to be working with Sustainable Mobility Solutions and SAE International to bring this programme to a broad audience of vehicle manufacturers, academic and government institutions, charge providers, suppliers, and others. EIT InnoEnergy landed in the US in 2020. Since then, we have helped start-ups, investors, and industries to move across boundaries, expanding our ecosystem between the EU and US, making both economies grow. Longer-term, EIT InnoEnergy hopes to replicate this model to deliver similar partnerships with other institutions, state universities and colleges in the US, working alongside employers, SMEs, and other firms working throughout the battery value chain.

 

Oana Penu, EBA Academy Director at EIT InnoEnergy
The SAE/InnoEnergy Battery Institute will launch in the first quarter of 2023 on SAE International's learning management system.