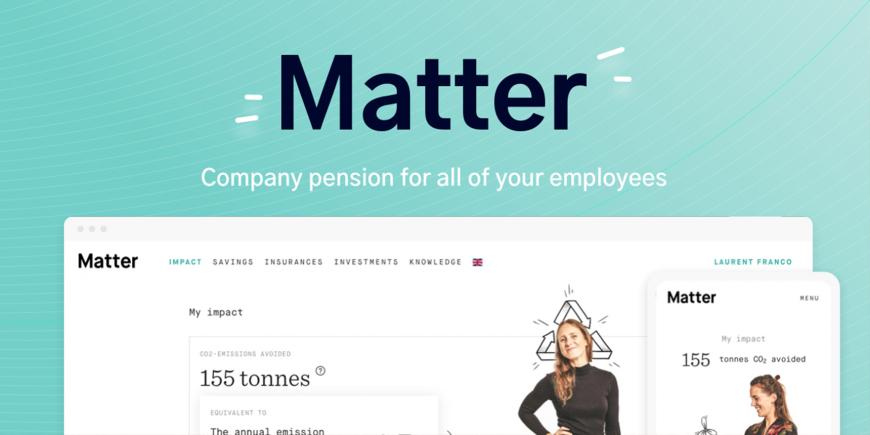 Matter (previously Penstable), offers sustainable pension plans for individuals and companies.
Supported by EIT Climate-KIC
Matter is a Danish pension/fintech start-up focusing exclusively on sustainable investments. The company, launched in 2017, aims to provide a 100% sustainable pension plan, thus providing both individuals and companies with a means of saving for their retirement in a way that doesn't involve supporting industries such as tobacco, fossil fuels or weapons.
Matter received several awards for their work, including 'Best Fintech' in National Startup Competition 2017 and got nominated for 'Best Social Impact.' Fibaek-Jensen, CEO and co-founder of Matter, holds a Masters in International Business and Politics from Copenhagen Business School.
EIT Community support
Matter was part of EIT Climate-KIC's Accelerator and was featured in EIT Climate-KIC's top 30 cleantech start-ups. The initial funding they received from EIT Climate KIC also helped develop the initial prototype and the partnerships necessary to take the product to market.
The quality of the masterclasses was fantastic and we learned a lot of things from those classes. And the early funding helped us to take the first step towards finding partners and building out the human capital we needed to take the first steps in our entrepreneurial journey.

Niels Fibæk-Jensen, Resourcify Co-Founder of Matter
---
Want to know more about Matter?
Niels Fibaek-Jensen, CEO and cofounder of Matter, was included in the Forbes 30 under 30.