Image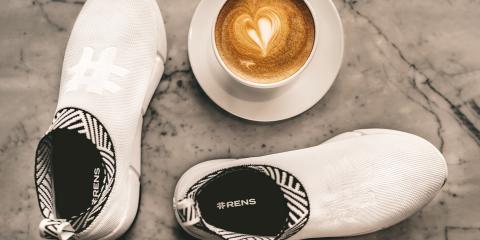 RENS Original is a sustainable fashion company that commercialises the world's first sneaker made from coffee waste and recycled plastic.
Supported by EIT Climate-KIC
There are an estimated six million tonnes of coffee grounds sent to landfill every year. As the grounds decompose, they release methane into the atmosphere, which has a significantly greater impact on global warming than CO2. RENS Original strive to prevent those coffee grounds from going to landfill and instead make it the central ingredient in their sneakers. With 21 cups of used coffee going into each pair, RENS Original hopes to make a lasting impact one sneaker at a time. 
The co-founders, Jesse Tran and Son Chu, were both born in Vietnam before moving to Finland to study and they wanted to combine their love of sneakers and desire for a more sustainable world in their new business. 
Our brand stands for sustainability, and this doesn't just mean environmental issues but a sustainable future for all of society, and so we want to use our voice to support the right causes and better society.

Jesse Tran, co-founder of RENS Original
In 2020, Jesse Tran and Son Chu were featured in the Forbes 30 under 30 list under the Social Entrepreneurs category. 
EIT Community support 
In 2018, Jesse Tran and Son Chu participated in EIT Climate-KIC's ClimateLaunchpad, placing second in the National Final. The process also started an enduring partnership with the EIT Climate KIC, and the node in Finland has provided an invaluable sounding board to help test and develop their proposition. 
EIT Climate KIC has provided us with so many lessons that have helped to really focus our proposition and pitch it to investors, industry partners, and potential employees. Without their support, we wouldn't be where we are today.

Jesse Tran, co-founder of RENS Original
---
Want to know more about RENSOriginal?
Rens Original website      RENS Original on Twitter      RENS Original factsheet