Image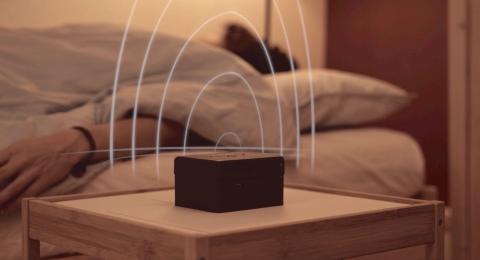 Diagnosing sleep disorders today requires a patient to spend the night at a hospital while attached to lots of cables and being monitored by a technician. This is costly, consumes time of medical professionals, and it requires patients to sleep in an unfamiliar place, rather than their own bed, where their sleep will be more natural and typical.
Using very high frequency technology and artificial intelligence to interpret sleep patterns, Sleepiz AG developed a unique solution that enables the patient's sleep to be monitored wirelessly at home. With wireless signals, Sleepiz' device measures vital signs without touching the patient – enabling non-contact home diagnosis of sleep apnoea and other sleeping disorders. 
On 1 October 2020, Sleepiz AG announced that their contactless sleep-monitoring device, Sleepiz One, has received CE certification, which grants approval to market the product in Europe. With CE certification achieved, Sleepiz One is now undergoing additional clinical trials to be validated as a Class IIa medical device for diagnosis purposes under the European Medical Device Regulations. The CE certification follows another major milestone reached in March 2020, when the quality management system of Sleepiz received ISO 13485 certification, which qualifies Sleepiz as a medical device manufacturer with an emphasis on safety and efficacy.
In May 2021, Sleepiz AG has received USD 500K funding that will enable the company to develop a novel three-dimensional radar technology. 
EIT Community support
In 2018 Sleepiz won first place in  the EIT Health Headstart programme. A programme that accelerates the market launch of selected healthcare start-ups thorugh grants as well as support with networking and developing a project plan. In 2019 the start-up participated in EIT Health's Bridgehead programme, where they were supported with the expansion to new European markets.
Max Sieghold, co-founder and CFO of Sleepiz, was nominated for the EIT Venture Award in 2019. During the award ceremony, Max won second place with his pitch for the INNOVEIT audience.