Image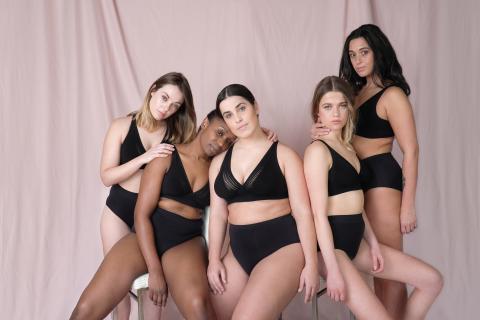 Soft Revolt, the Dutch creator of the first wire free, supportive 3D knitted bralette for all cup sizes with an entirely EU based, zero-waste production. 
Supported by EIT Climate KIC
The story: An eco-friendly and inclusive bralette 
Today, soft bralettes are becoming more popular as people opt for their comfort over wired bras. However, for people with cup size D and above, the bralette often doesn't offer sufficient support. They are left compromising on comfort or support. What's more is that we are also in an age where customers place high importance on the environmental footprint of the products they buy. Driven by this, founders, Elles Roeleveld and Anet van Haaster, made it their mission to develop soft yet supportive lingerie for all sizes, that would also save considerably on CO2 emissions.  
This is how the Soft Revolt bralette was born. The pair adapted the 3D knitting technique widely used in the footwear industry to the lingerie sector. This technique allows them to apply support exactly where it is needed, and the knitted material's stretchiness makes the lingerie suitable for fuller cup sizes. The bralette also comes out in one piece so can be assembled all in one place. This process removes the need for complicated logistics and unnecessary emissions to ship raw materials across the world to be manufactured. The product is therefore put together entirely in the EU and as a result emits 3kg less of CO2 per bralette than a traditional bra. In the future, Soft Revolt aims to implement more circular processes into the lingerie industry as a whole while continuing to make softer and more comfortable bras for all. 
When you create a startup there are no legacy processes or cultural baggage saying how things have to be, so you can make sure you do things the right way from day one. We wanted to be sustainable from the very beginning and do our part to improve the bad reputation the sector has.

Co-founder Elles Roeleveld 
EIT Community Support 
The start-up started working with EIT Climate KIC after successful crowdfunding campaign. A hi-light of the collaboration with EIT Climate KIC was the ease with which the initial conversations took place. The start-up world remains male-dominated, and entrepreneurs in the lingerie sector can face awkward conversations with investors and other backers who don't really know the space or how to engage with it.  
There wasn't a single awkward moment, and we were able to talk immediately about the business model and the size of the market. Even though the program is 90% men, we haven't ever felt awkward. 

Co-founder Anet van Haaster 
What's more, the pair reveal that the relationship with EIT Climate has evolved perfectly alongside their business, with the mentors able to provide just the right kind of input and expertise at each part of their journey to market.