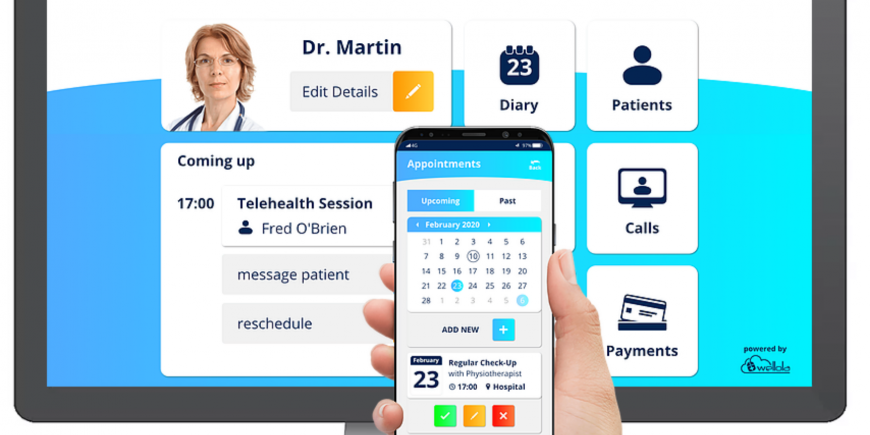 Wellola: security, patient portal and scheduling
Online & app-based Wellola, supported by EIT Health, combines practice management software with a free patient app. The patient-facing portal not only reduces correspondence & no show costs, it also future-proofs your clinic with secure infrastructure to offer telecare when your patients need it.
Transform your clients' experience via scheduling for in-person or video-consultation care, secure messaging, digital letters, backed up by record-keeping & payment facilities, all directly from your clinic website.
Get the best of the EIT's news once each month
Benefits
Save time & manage all your client administration in one, easy-to-use, hassle-free platform. Features include scheduling, note-keeping, digital letters, appointment reminders, secure messaging, billing & payment facilities.
Offer a premium healthcare experience by offering your clients a patient portal. This works directly from your website & via the free Communicare App. Empower patients to contribute to the management of their own health with features such as your personal educational library.
How much do you spend on post? How much do no-shows cost you each year? Reduce avoidable communication expenses with our messaging, digital letter & reminder features.
Features
We take the care of your data very seriously. It is stored & backed up in multiple AWS data-centres, encrypted in transit & at rest, architected with the specialist support of DNM Group (an AWS Premier Partner). We are also currently undergoing independent ISO 27001:13 certification.
Easily offer your patients a seamless healthcare experience with our award-winning patient portal. As a small provider or large enterprise you can set up in minutes, integrate Wellola into your website & provide your patients with the complimentary Communicare app.
Recent research suggests that over 30% of all clinic bookings happen out of hours & 50% of all phone-calls are appointment-related. Enable your patients to self-schedule 24/7 for both face-to-face or video-consultations, depending on how much of your schedule you choose to show.
---
Want to read more?
EIT Health-supported Wellola delivers secure patient portal for COVID-19