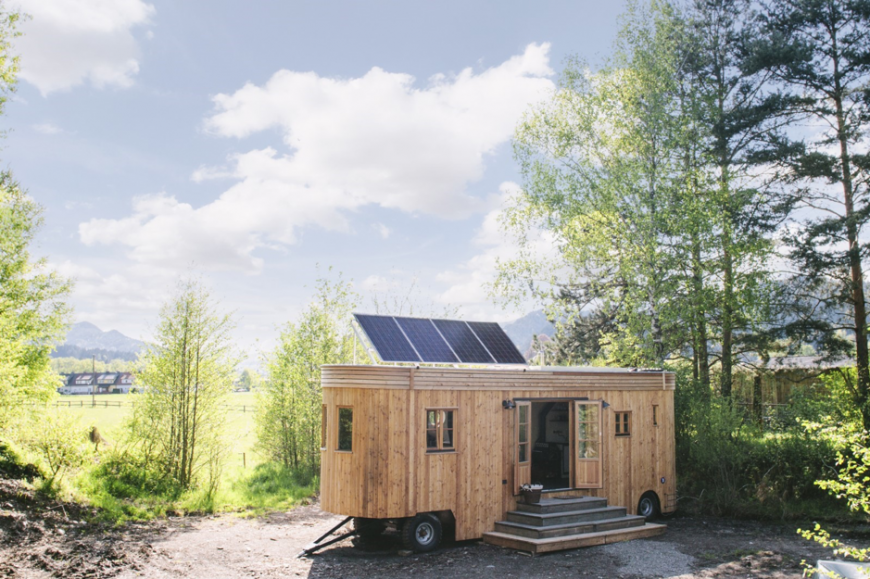 Wohnwagon, the Austrian start-up pioneering the self-sufficient, environmentally friendly tiny houses on wheels.
Supported by EIT Climate KIC EIT InnoEnergy
If the post-covid economic recovery is to be a green one, then making buildings sustainable will be crucial, as estimates suggest they currently account for approximately 40% of our energy use. It's a challenge that Austrian startup Wohnwagon is tackling head-on, with their sustainable homes providing integrated solutions for water, heating, and electricity. The company, which was founded in 2013, successfully raised over €200,000 in two crowdfunding rounds to help them develop a prototype of their wood-based living units that combine off-grid living with comfort and style.
The company has sold around 100 properties thus far, with between 70-80% of them fully self-sufficient. The Wohnwagons are proving particularly popular for rural customers who may struggle to not only find land to build a home on but also navigate the various building regulations that developments must comply with. The company aims to take care of that side of things for customers and make the whole experience as stress-free as possible.
EIT Community Support
They were able to enroll the EIT as a key partner early in their journey when they joined the EIT Climate KIC Accelerator. This enabled them to develop their business model and make it both scalable and impactful. The early investment that came along with participation was also invaluable in helping the business develop out its proposition.
The start-up then joined the EIT InnoEnergy programme, which added fresh benefits, especially in terms of their internationalisation strategy and the overall professionalisation of the business as it scaled.
Arguably as well as expertise and experience, the most valuable role played by EIT has been that of an impartial advisor, providing the fledgling entrepreneurs with numerous helpful pointers along their journey.
One thing we really value is [EIT Climate KIC] being a critical stakeholder and asking lots of questions. We want to get better every year and it's so easy to get lost in the details of the business that having them there to provide advice and point out things we may miss has been really useful.

Theresa Steininger, CEO and co-founder