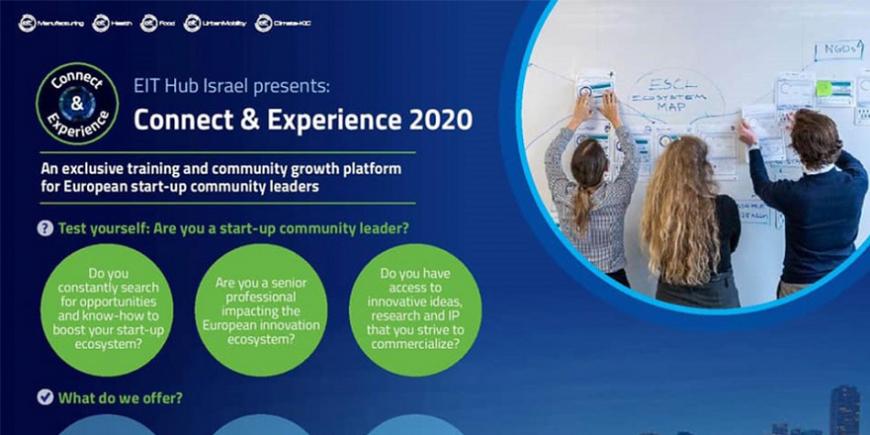 Join the first European-Israeli community
Application deadline: 17 February 2020
Professionals working to boost European start-up growth are invited to join the first European-Israeli community, a platform for peer-learning and collaboration aimed at enhancing start-up growth and opening innovation of ecosystems in Europe and Israel. Organised by the EIT Hub in Israel, this programme allows participants to apply to a one-of-a-kind, interactive programme and become part of an exclusive European-Israeli active innovation community.
The Connect & Experience Programme
The program encompasses three elements:
An intensive five-day professional training in Israel, providing a full-stack immersion in the Israeli ecosystem goes beyond the usual introductions, and drills down to the key drivers of ecosystem building.
European 'ESCL: Playground' follow-up conference. This is the annual highlight of the ESCL community network, bringing together professionals from all across Europe and Israel;
Full access to the ESCL innovation community network, an active EU-IL online and offline community offering easy access to opportunities, curated content, matchmaking, soft landing services and support.
Is it for me?
The programme targets:
EIT KIC Partners (and staff) from the five KICs involved in the EIT Hub in Israel – EIT Health, EIT Climate-KIC, EIT Urban Mobility, EIT Manufacturing and EIT Food;
Partners and staff from other EIT KICs;
Ecosystem Managers who are not EIT Partners – particularly experienced senior professionals in a management/decision maker level in an organisation aimed to boost European start-up growth.
Costs, reimbursement
The value of this programme is EUR 4 000 but there are discounts, ranging from 100% to 50% for most participants, as well as a possibility for reimbursement of travel costs.
If you have questions, e-mail Yoni Levenfeld