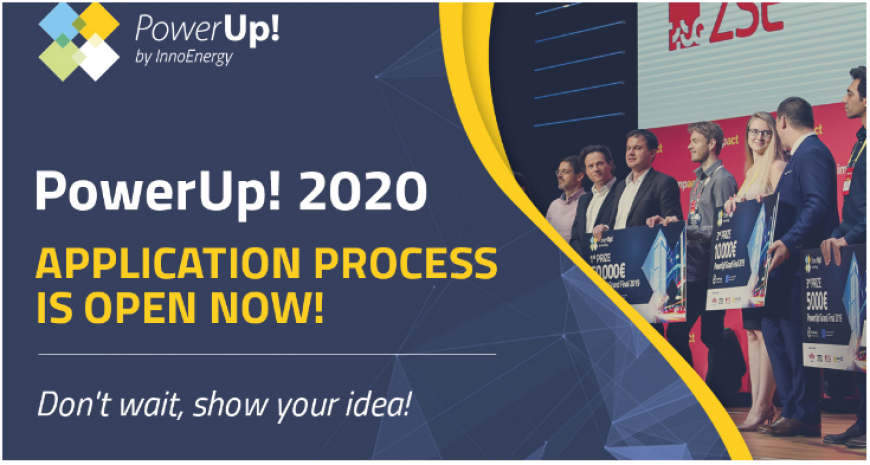 The EIT InnoEnergy PowerUp Challenge 2020 goes online! For the past three weeks, EIT InnoEnergy has been working on changing the whole project to give the best start-ups a chance to pitch online. Stay home & watch 100% virtual Country Finals of PowerUp! 2020. (Updated 1 April 2020)
The EIT InnoEnergy PowerUp! Challenge elevates innovative companies to the next level.
PowerUp! Challenge 2020:
EIT InnoEnergy, the Pan-European impact fund is chasing the next round of unicorns for investment within the Central-Eastern European region
Boosting the success rate of start-ups and enabling the growth of scale-ups and SMEs through financial investment, and providing know-how from industry experts and support from the trusted partner network
The Swedish unicorn, Northvolt, founded by former Tesla VPs, which received the EIT InnoEnergy support, has a current valuation of EUR 1.6 billion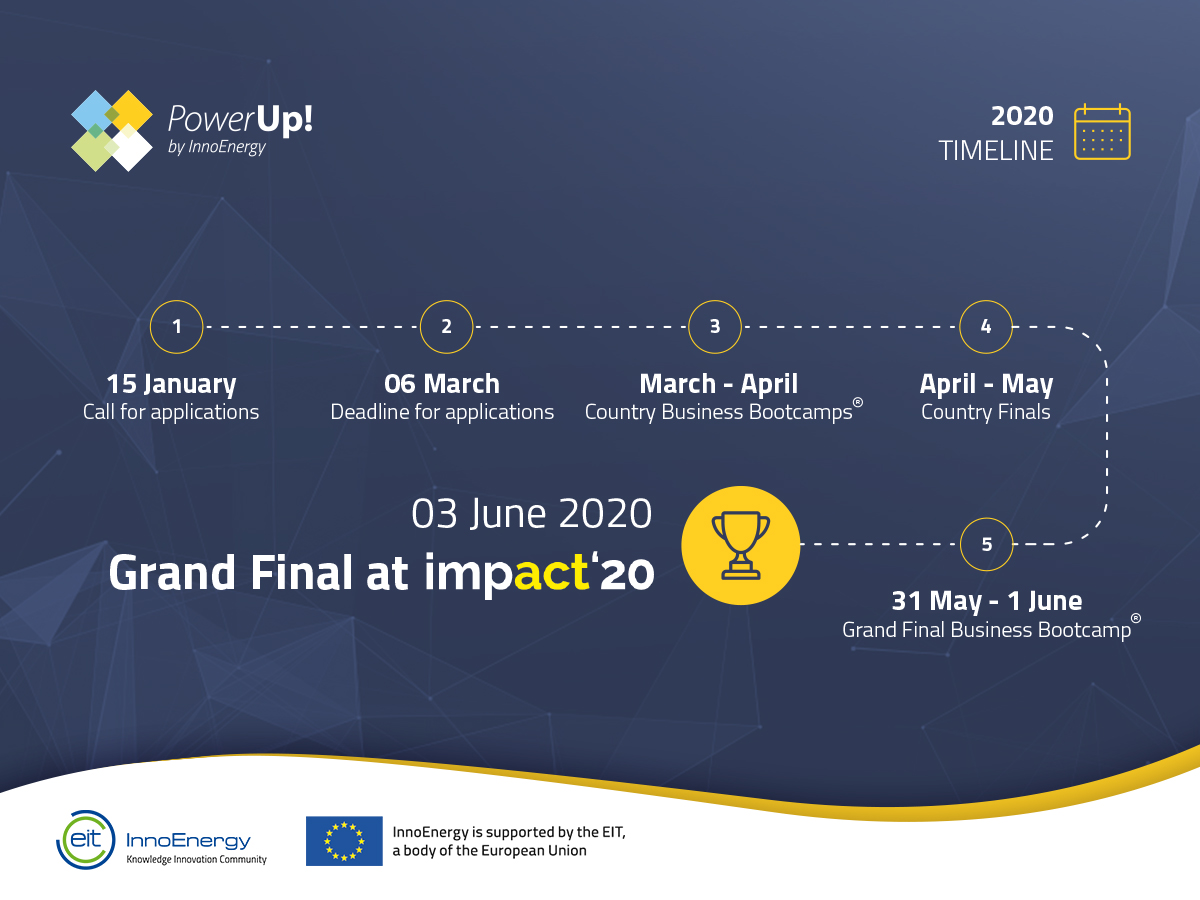 Thematic areas
The PowerUp! Challenge is an opportunity for entities from Central-Eastern Europe to become the next unicorn in the InnoEnergy portfolio. The programme is open to entrepreneurs at all stages of development. It doesn't matter if you only have an idea, looking for your next customer or planning market expansion. The thematic areas are energy, mobility, cleantech, smart cities, but the challenge is open for all ideas outside the box.
EUR 65 000 value of prizes
Exclusively for eligible start-ups, EIT InnoEnergy is holding a competition within the PowerUp! Challenge with financial prizes up to EUR 65 000 and the title of Start-up of the Year. Other benefits include participation in the Business Bootcamps©, focusing on substantive support from international field experts, with topics such as business planning, pitching skills or IP protection.
EIT InnoEnergy support
EIT InnoEnergy is a co-creator, smart investor, and industry catalyst for entrepreneurs who want a global impact and a sustainable world. Companies which succeed to join the EIT InnoEnergy network will get: product enhancement, development, and pilots, commercialization strategies, international market introduction and expansion and further funding opportunities.
Northvolt success story
One of the best examples of EIT InnoEnergy investments is Northvolt, Europe's largest lithium-ion battery manufacturer, with a current valuation of EUR 1.6 billion. In early 2016, before they were an established company, two former Tesla executives, Peter Carlsson and Paolo Cerruti, reached out to EIT InnoEnergy for support. Unlike conventional battery production facilities in Asia, Northvolt is geared for technological excellence powered by clean energy. Recently Northvolt raised EUR 350 million from the European Investment Bank and is currently building the two largest green energy fuelled battery factories Northvolt Ett in Skellefteá, near the Arctic Circle and the Northvolt Zwei, in lower Saxony Germany.
EIT InnoEnergy invests EUR 5.8 million in Northvolt