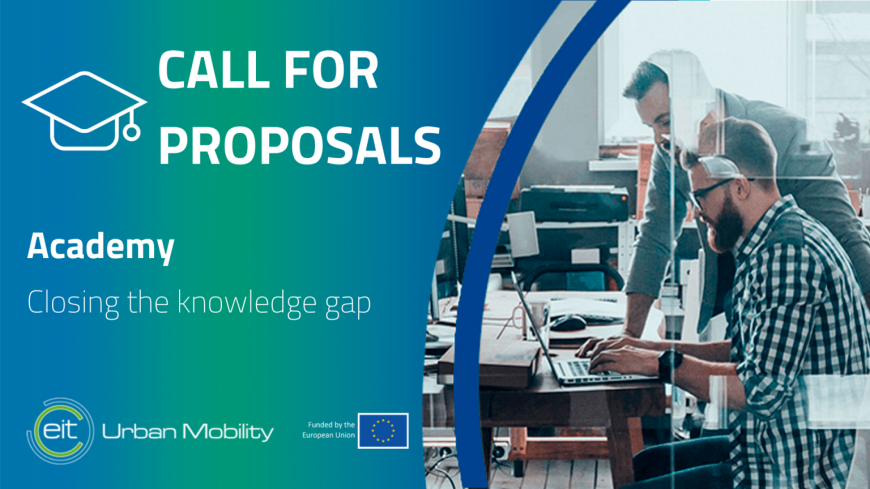 EIT Urban Mobility has launched the first call for proposals for its Business Plan 2022-2024 on Academy.
Application deadline: 18 May 2021
Urban mobility faces several challenges and we need solutions accelerating the transformation towards a sustainable mobility ecosystem and with a focus on liveable spaces. This requires a systemic approach involving all key stakeholder groups and calls for change regarding what we do and how it is done. A key element to manage this transformation is to close the knowledge gap within the area. The EIT Community needs to secure that the required capabilities and capacity are available to plan for and handle the transformation and to be relevant in a new context, a new urban mobility paradigm. This education or training need can be summarised as the ability to implement and leverage new technology, innovation and entrepreneurship, and system transformation and change. This is an ongoing process and during 2020 the COVID-19 pandemic resulted in an increased awareness regarding the need for the urban mobility transformation and change in general.
Since the start of 2019, EIT Urban Mobility has built up a portfolio of education and training offerings with a focus on master and doctoral level students, as well as professionals working within urban mobility. The EIT Community wants now to take the Academy to the next level and they have identified a number of well-defined problems or needs to address. The EIT Community looks for proposals to support them creating a relevant and widely applied education and training portfolio in line with the strategic ambitions and targeted impact.
Main features of the call
The overall purpose of the Academy area is to close the knowledge gap within urban mobility, enabling the development of mobility for liveable urban spaces. The Academy Call focuses on improving the EIT Urban Mobility Master School and Competence Hub activities.
For the Master School, the EIT Community looks for new more efficient teaching concepts, summer schools, marketing and raising awareness initiatives as well as specific activities improving teaching and training in the RIS (Regional Innovation Scheme) regions.
The Competence Hub, the professional school targeting lifelong learning, welcomes proposals regarding urban mobility courses (online, blended, or face-to-face) with significant potential in impact and revenue. In addition, proposals concerning meeting city staff education and training needs, multi-stakeholder courses, hackathons, as well as proposals targeting RIS regions are most welcome.
Download the detailed call for proposals
Partners
The Academy Call is open to any type of organisation. The proposal should be submitted by a consortium comprising of minimum two sub-grantees from two different countries – EU Member State or associated country.
Timeline
Call opening: 19 March 2021
Call closing: 18 May 2021
Eligibility and admissibility check: end of May 2021
Evaluation of proposals: June 2021
Communication of results: beginning of July 2021
Please, visit the EIT Urban Mobility website for more information