EIT Urban Mobility: Open Call for Applications to Student Entrepreneur Grant Scheme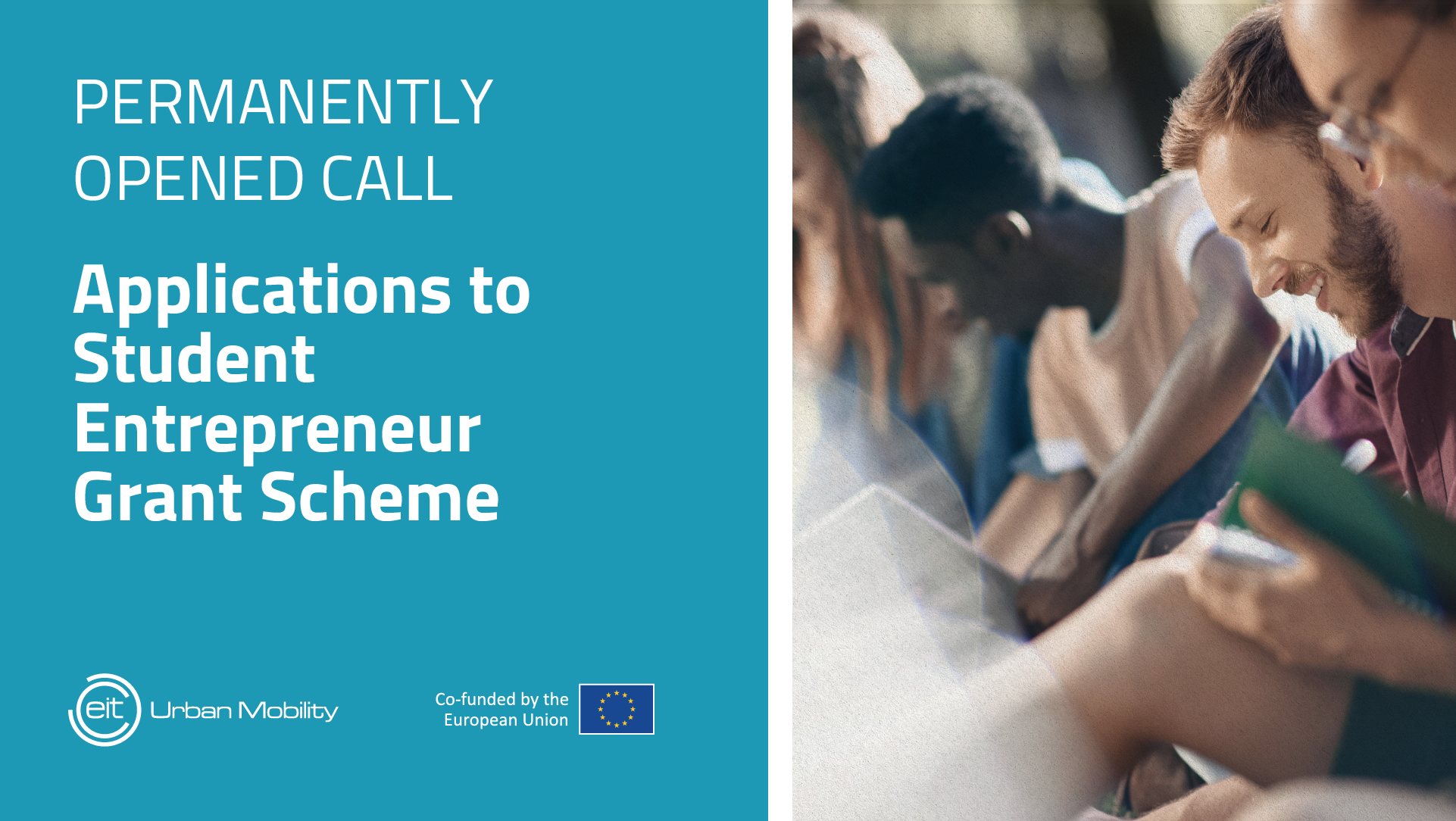 The Student Entrepreneur Grant Scheme is a new programme of EIT Urban Mobility to support students/ recent graduates working on innovative projects/ ideas.
The programme is designed to empower students with the financial resources they need to work on and develop their projects/ideas. By providing small financial grants, we aim to help students to overcome the first significant barrier in turning their ideas into reality. The programme is aimed at nurturing the entrepreneurial spirit and fostering a culture of innovation among the students.
Main features of the call
This financial grant is to enable students/recent graduates in developing their projects/ideas into a new startup venture. If successful, this could be a start-up supported by EIT Urban Mobility, making them eligible to apply for other programmes of EIT Urban Mobility.
The grants are only available for students who are currently enrolled in (or) recently graduated from any of the EIT-Labelled programmes under EIT Urban Mobility. The maximum grant available per project/idea is €6,000, which will be awarded subject to the conditions described in the Call Manual. The maximum available funds for the Student Entrepreneur Grant Scheme per year is up to approximately €30,000.
Contact details
Call summary
Call for Applications Main Features[1]
Key dates of the Call calendar
Call opening: 25 May 2023  
Cut-off dates for the Year 2023:
First cut-off date: 25 July 2023 at 17:00 CET
Eligibility and admissibility check: July 2023
Pre-screening and evaluation of applications: July/ August 2023
Communication of result: August / September 2023

Second cut-off date: 16 October 2023 at 17:00 CET
Eligibility and admissibility check: October 2023
Pre-screening and evaluation of applications: October/ November 2023
Communication of result: Nov 2023

Third cut-off date: 15 January 2024 at 17:00 CET
Eligibility and admissibility check: January 2024
Pre-screening and evaluation of applications: January / February 2024
Communication of result: Feb 2024  

Note: The subsequent cut-off dates for the years 2024 and 2025 will be updated later.
Total estimated EIT Funding allocated to this Call
The total EIT funding allocated to this Call per year is approximately €30,000
Link to the submission portal
The EIT Urban Mobility AwardsForce Platform will be available as of 25 May 2023
List of documents to be submitted
Application form (template)
Additional documents: please see Section 4.2.1 of the Call Manual
List of documents to take into consideration
Call Manual
EIT Urban Mobility Strategic Agenda 2021-2027
Eligibility of expenditure
Appeal procedure
Project Implementation Handbook
Financial Support Agreement Template
Horizon Europe Grant Agreement (signed by EIT Urban Mobility)
Short summary of the topics to be addressed
The topics to be addressed should be related to one of the 9 challenge areas defined by EIT Urban Mobility:

– Active mobility,
– Intermodality,
– Mobility infrastructure,
– Mobility for all,
– Sustainable city logistics,
– Creating public realm,
– Future mobility,
– Mobility and energy,
– Pollution reduction.

These broader challenge areas were narrowed down from over 250+ urban mobility challenges that were identified by cities across Europe.

You can read more about these 9 challenge areas on our website.
Evaluation criteria
– Product & Technology
– Market & Business Model
– Team Capabilities
– Impact
---
[1] Please note that this calendar is indicative. Dates may be subject to slight changes.