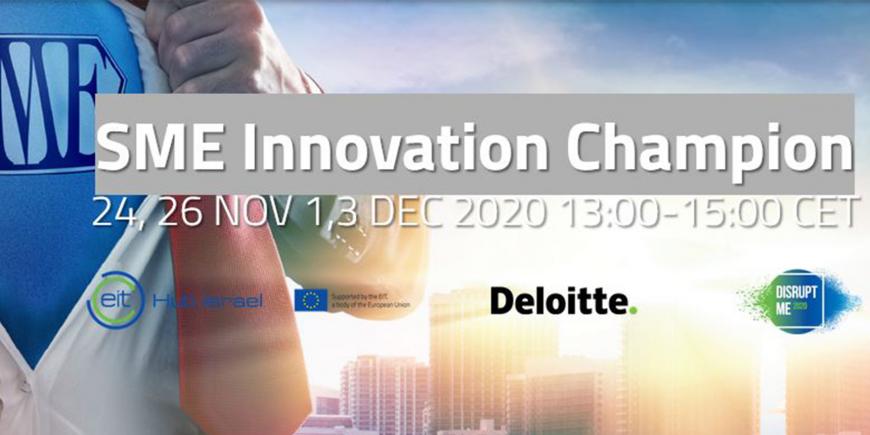 EIT Hub Israel launched its first programme to support small and mid-size enterprises (SMEs) throughout these challenging times.
Become an innovation champion
A tailored training for SMEs providing everything you need to know in order to lead your organisation to the new era. During four hands-on practical sessions, participating SMEs will learn work methodologies, best practices, and available digital tools to manage internal and external innovation challenges, boosting your business and technological outcomes.
Registration is on a first-come-first-serve basis, with limited seats.
Why join?
Four virtual power sessions with hands-on and tailored workshop to keep your organisation competitive and innovative
Leading international speakers sharing use cases, methodologies and practical advice
1:1 consultation with innovation experts
Peer learning with like-minded executives
Choose your track: corporate Innovation or open Innovation
Certified training
Agenda
Session 1: The Era of Innovation: Why innovate and who should do it?
Session 2: Overcoming innovation challenges
Session 3: The world of Open and Corporate Innovation
Open Innovation – Models, scouting exercise, start-up meetings simulations
Corporate Innovation- Lean Canvas exercise, recruiting and training innovation champions
Session 4: Innovation in real life, including a panel discussion with leading SME
Please, note that a detailed agenda will be sent to the registered participants.
Eligibility
Motivated executives from SME's that are looking to expand their innovation capacity
SME Headcount between 10 - 250 and annual turnover between EUR 2M - EUR %M (Based on the EU's SME definition)
commitment to attending all training sessions and individual preparation between sessions
Fee
Symbolic participation fee of EUR 100 that will be collected via PayPal/Wire Transfer at the end of the registration form. Only after financial confirmation is your spot reserved. Registration is on a first-come-first-serve basis, with limited seats.
Workshop dates
24-26 November and 1-3 December 13:00 - 15:00 (CET).
Please note that timing provided on this page is given for guidance only. For detailed information on the opportunity visit the event page or contact yoni.levenfeld@eithealth.eu.